Animal-Based Wagyu Meatloaf Cupcakes with Sweet Potato Frosting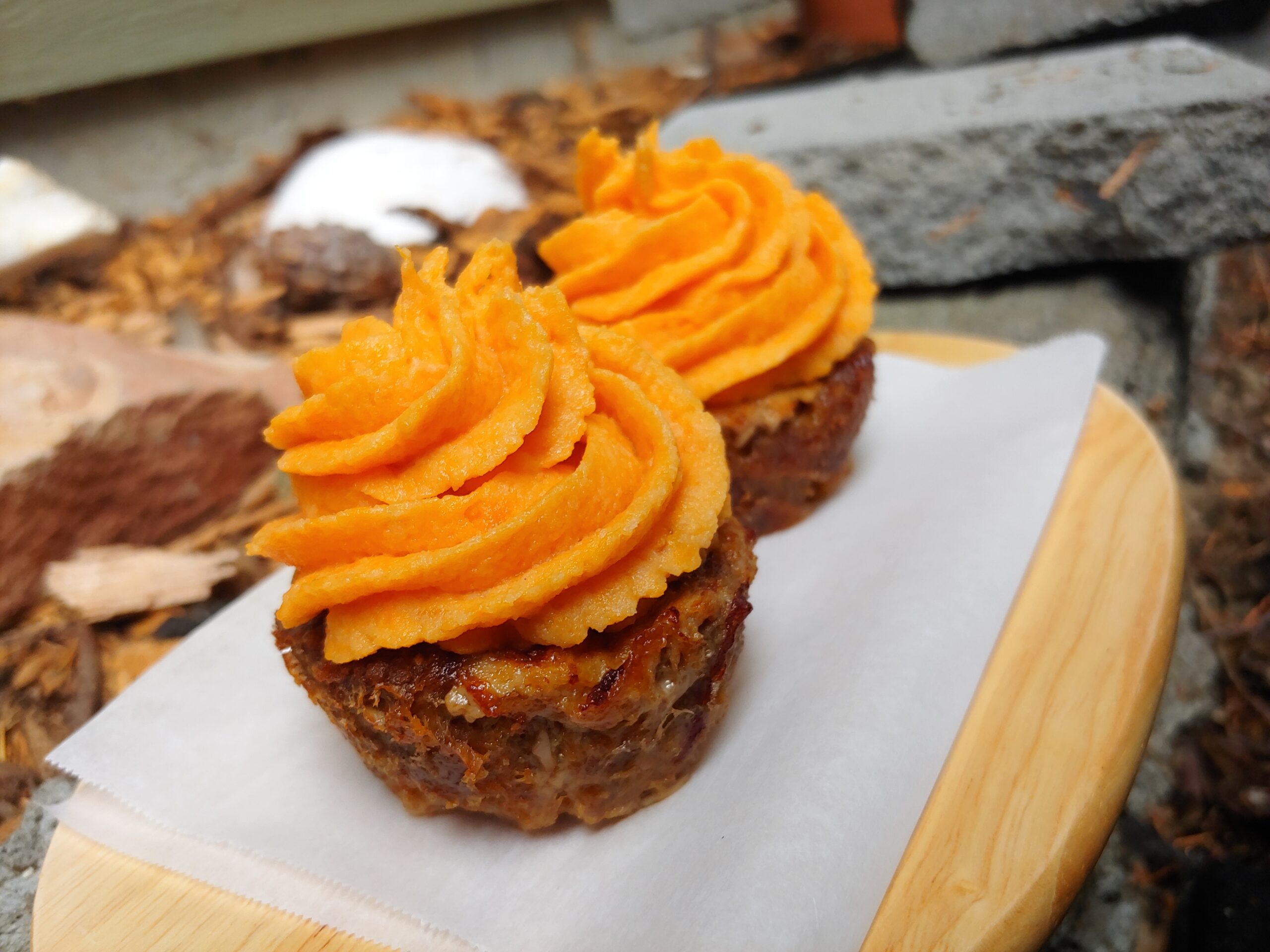 Did you know that a Japanese Wagyu cow can cost more than $30,000? Quite a hefty price tag however, the quality of the meat is worth every penny. Japanese wagyu is cultivated through crafted traditions that make the meat unlike any beef you have eaten before. But did you also know that there are other variations of wagyu from other countries? This is where the Canadian, American, and Australian wagyu come into play. The meat is also graded, from highest to lowest, from a grading system that is unique to each country that the cow came from. This recipe for Animal-Based Wagyu Meatloaf Cupcakes with Sweet Potato Frosting is super simple to make and will surely impress any wagyu lover. It is also infused with the hybrid "Sweet Potato" that is a very lovely hybrid cultivar from Gonzo Seeds.
In Japan, wagyu cattle spend a stress-free life full of luxuries most cattle would dream of. Chopped grain, whole-plant silage of kernels, corn cop mix, access to pasture, and other plant-based varieties that are rich in nutrients are fed to wagyu cows. In order to soften their lipids, they are also fed vegetable oil, protein, vitamins, and minerals. To prevent their animals from becoming weary from excessive chewing, some breeders feed their cows seaweed that has been manually sliced into strips as well as Omega-3 supplements.
Heavy cortisol, which is produced by stress, can erode the quality of meat. Breeders try their utmost to provide the cow with a zen-like environment to grow in order to maintain the animal free from ailments. To prevent frightening the sleeping cows, the noise levels are constantly monitored and controlled. Water is refreshed on a regular basis to maintain purity and cleanliness. Additionally, conflicting cows are separated into different sheds to stop not only the stress between the two but from also promoting stress in nearby cattle.
Giving cows brewer's grain is one of the many customs in Japanese cow-raising. This is a beer residue without alcohol that is fed to cows to promote relaxation. To enhance the cows' digestion, blood flow, and general wellness, farmers on Wagyu breeding grounds also brush and massage them daily. Farmers also bond on a deeper level with the cows compared to traditional cattle farming.
In America, wagyu are a crossbreed of conventional American cattle like Angus with Japanese Waygu to generate American Wagyu. The same exceptional grade of tender, marbled beef is produced by crossbreeding, but with a more powerful flavor that is similar to the flavor of classic American beef. Canadian and Australian wagyu are also crossbred with other cows and are not purebred. These countries often will follow similar ways in which the Japanese rear these livestock but will not follow the tradition to a tee.
Gonzo Seeds has the perfect cultivar to pair with this wonderfully succulent and moist meatloaf cupcake. The "Sweet Potato" strain possesses a delicious and delicate fruity note that pairs well with the natural sweetness of the potatoes. The cultivar itself helps to relieve stress while having a functional headiness that can get you through a stressful day.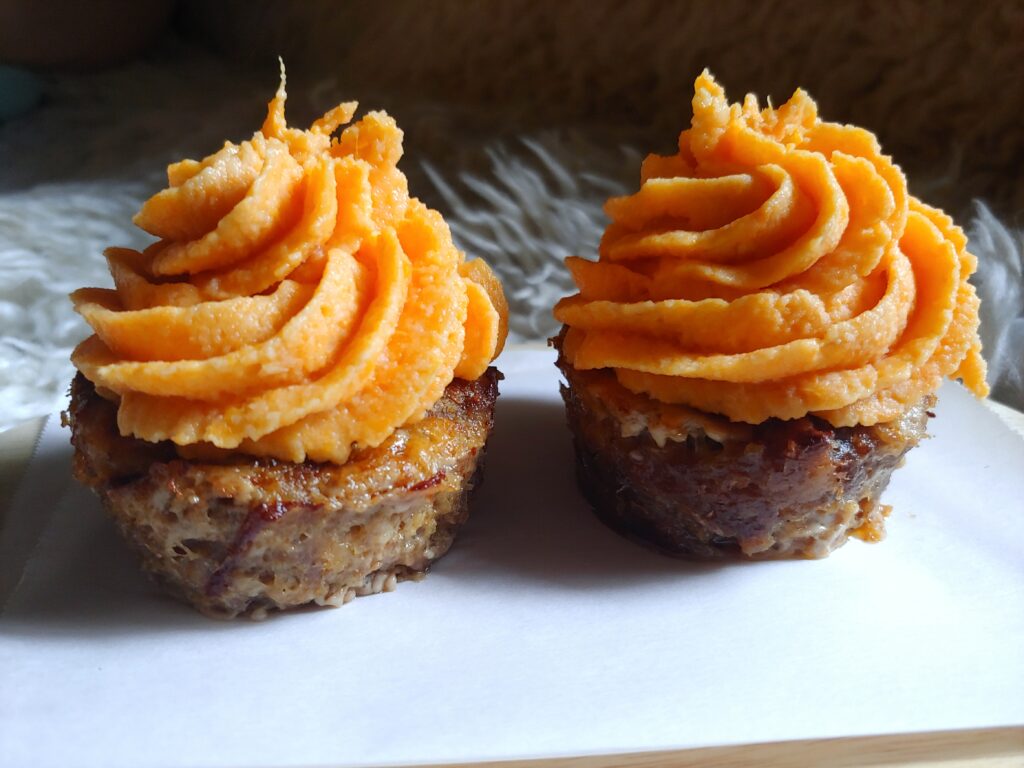 What You Will Need to Make Animal-Based Wagyu Meatloaf Cupcakes with Sweet Potato Frosting:
3 Raw Eggs
1 Cup Crushed Pork Rinds
1/4 Cup Butter Infused with "Sweet Potato"
3 Medium Sweet Potatoes
1/2 Cup Raw Cream
1 Tablespoon Gelatin plus 1/2 cup hot water
1 Cup Dehydrated Potato Flakes
Sea Salt
OPTIONAL: 1/4 Cup Paleo Ketchup and 4 Shakes Kinder's Woodfired Garlic
Equipment:
12 Tray Cupcake Tin
1 Baking Sheet
2 Mixing Bowls
2 Wooden Mixing Spoons
1 Handheld or Stand Mixer
Measuring Cups
Substitutions:
Ghee or Animal Fat for Butter.
FAQs
Can I make these without weed?
Of course! These recipes taste amazing both infused and not!
How to Store Animal-Based Wagyu Cupcakes
Once the cupcakes are fully cooked and frosted, they should be cooled and then stored in a fridge covered to prevent it from absorbing ambient flavors.
How Long Does It Last?
If your cupcakes do last, 4 days in the fridge should suffice. Anything past that and we recommend freezing portions.
How to Freeze Animal-Based Date Wagyu Cupcakes
These cupcakes can be stored in the freezer in a glass container for up to 6 months.
How to Defrost Animal-Based Date Custard Cream Pie
Pull from the freezer and place into the refrigerator to defrost overnight. You can also defrost on the counter for 15 minutes before warming in the toaster oven.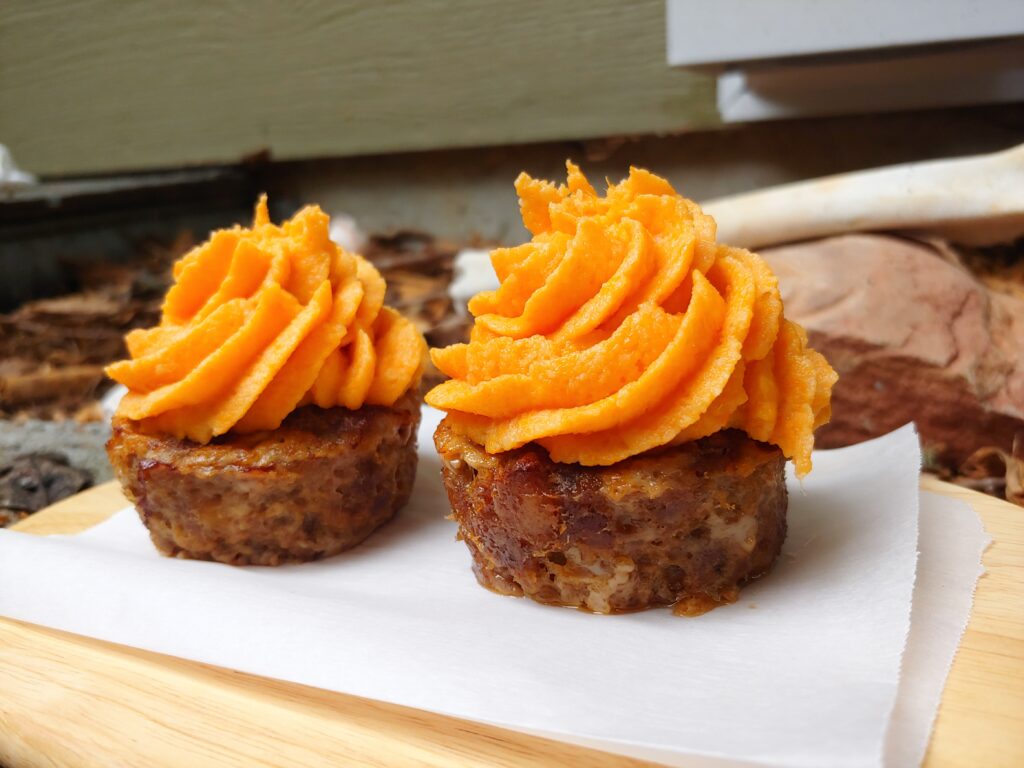 Reasons Why We Think You Will Love This Recipe:
Perfectly Moist.
Elegant.
A Surprising Meal for Any Occassion.
Animal-Based.
Buttery Soft Mouthfeel.
Animal-Based Wagyu Cupcakes with Sweet Potato Frosting is a fantastic dinner option that will be sure to wow your tastebuds. It also a great recipe to impress any dinner guests who love Wagyu beef!
More Animal-Based Savory Recipes:
Animal-Based Honey Glazed G13 Sockeye Salmon
Animal-Based Viral Cheese Fried Pickles
If you try this recipe, let us know! Be sure to tag a photo @chefjessicacatalano on Instagram and Facebook @ChefJessicaCatalano, Enjoy!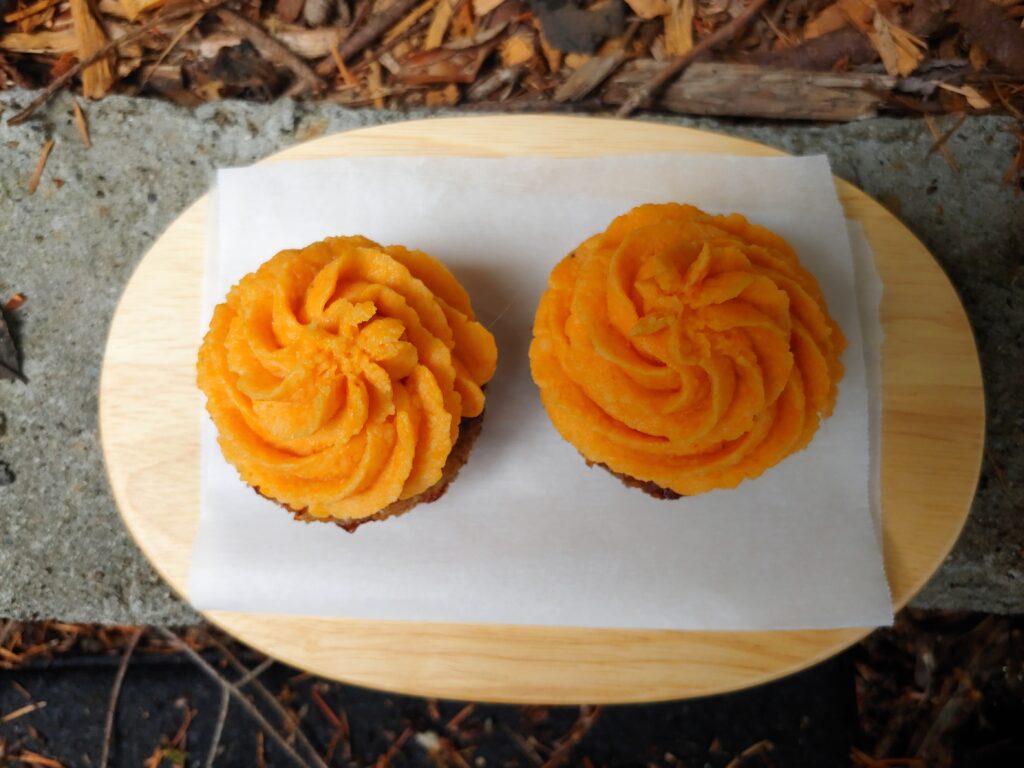 Animal-Based Wagyu Meatloaf Cupcakes with Sweet Potato Frosting
Savory and decadent with a buttery soft mouthfeel, these wagyu cupcakes are the bee's knees!
Equipment
1 12 Tray Cupcake Tin

1 Baking Sheet

2 Mixing Bowls

2 Wooden Mixing Spoons

1 Handheld or Stand Mixer

1 Measuring Cup Set

1 Piping Bag

1 Stock Pot
Ingredients
3

Raw Eggs

1

Cup

Crushed Pork Rinds

¼

Cup

Butter Infused with "Sweet Potato"

3

Medium

Sweet Potatoes

½

Cup

Raw Cream

1

TBSP

Gelatin

½

Cup

Water

1

Cup

Dehydrated Potato Flakes

1

Pinch

Pink Himalayan Sea Salt

¼

Cup

Paleo Ketchup

(OPTIONAL)

3

Shakes

Kinder's Woodfired Garlic

(OPTIONAL)
Instructions
Instruction for Wagyu Cupcakes
Preheat the oven to 350 degrees.

Add the wagyu, eggs, pork rinds, sea salt, and optional ingredients if desired. Mix well.

Grease the cupcake tins and divide the meatloaf mixture into the 12 wells.
Instructions for Sweet Potato Frosting
Boil the potatoes in water until soft.

Peel and add to a mixing bowl.

Sprinkle the gelatin over hot water and let it bloom for 1 minute.

Add the gelatin mixture, raw heavy cream, a sprinkle of sea salt, and infused butter.

Blend on high while slowly sprinkling the potato flakes.

If the mixture gets too thick, thin out with more raw cream.

Pipe onto the wagyu muffins after they have set for 5 minutes. Enjoy!
Notes
Dosage:
If a gram of Sweet Potato tests at 23 percent THC, then 230 mg of THC is present when decarbed properly. 
Therefore, substitute the number of your THC percentage and the amount of flower you have and do the math to figure out you're dosing. If you want a smaller dose, cut the flower down to a smaller portion. For a larger dose, add in more.
Stain Pairing Suggestion:
When preparing this recipe, I would recommend pairing strains that possess cheese, fruity, cream, and sweet earthy terpenes and flavonoids. If you do not have access to this strain, then use your nose and taste buds to find other cultivar's that have similar smell and flavor profiles.
Want Some More Animal-Based Recipes?
Animal-Based Date Custard Cream Pie
Animal-Based Honey Glazed G13 Sockeye Salmon
If you try this recipe, let us know! Be sure to tag a photo @chefjessicacatalano on Instagram and Facebook @ChefJessicaCatalano, Enjoy!
Share this:
---