Animal-Based Viral Cheese Fried Pickles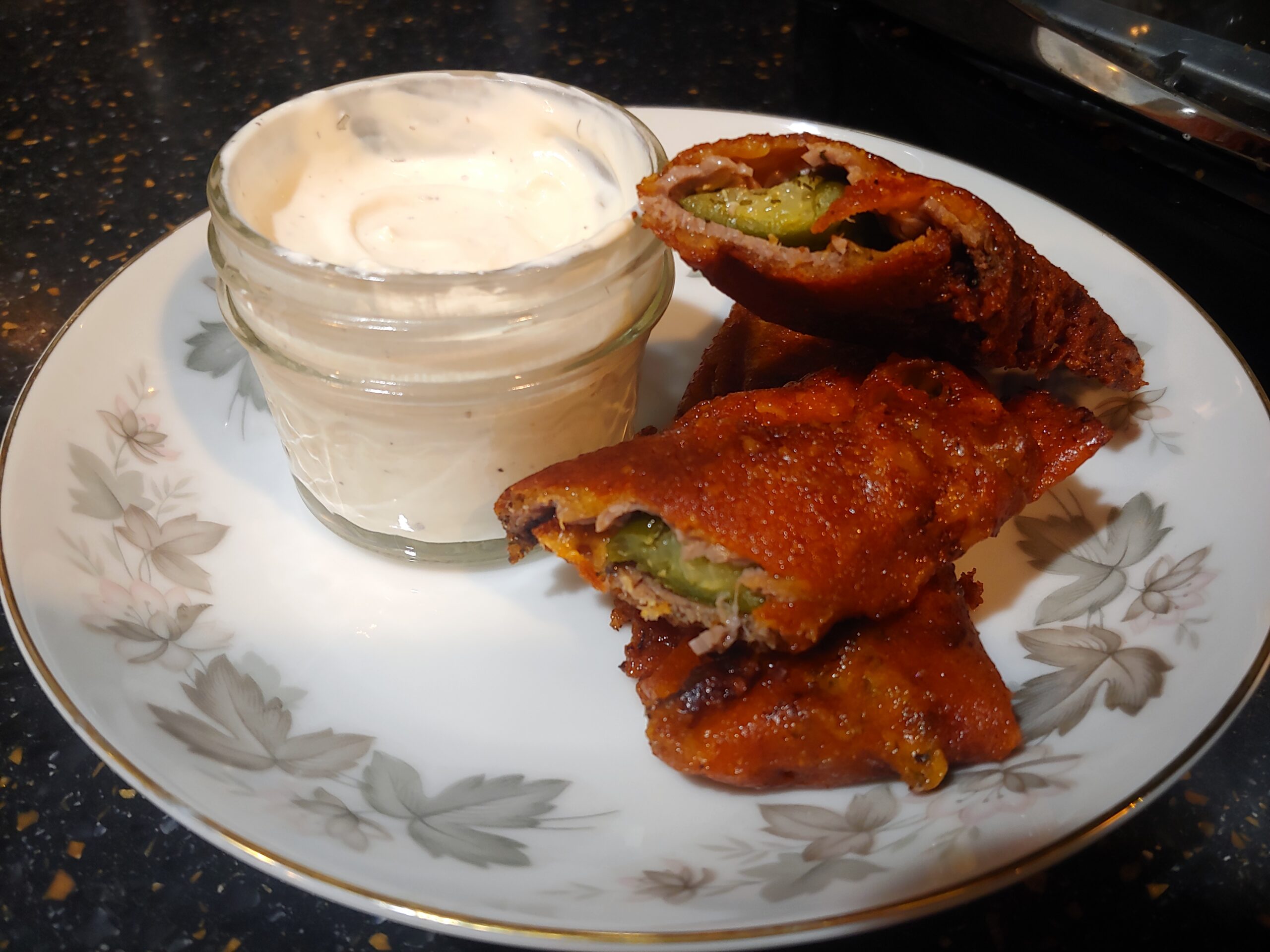 Some of you may know them as "chickles" or "pickles in a blanket", but this viral trend I took to the next level with freshly shaved roast beef, brown butter ghee, raw cheese, raw refrigerator pickles, and the autoflower cultivar "cheese" infused animal-based raw ranch dipping sauce. Raw dairy is best from pasture raised dairy cattle that is local and close by to your home where the cows feed on grass. It makes raw dairy products so much tastier than commercial pasteurized dairy products. This viral trend has been seen all over the entire interweb from YouTube, to TikTok, Facebook, and Twitter. And it keeps spreading into every home! It went viral for a good reason, it is f'king delicious!
Animal-based eating doesn't have to be restrictive or weird. It is about consciously eating more animal-based foods in each meal and when you do eat plants, to make sure they are less toxic. Cucumbers are a botanical fruit and are made up mostly of water. Making your own refrigerator pickles or canned pickles at home is simple, easy, and nutritious. Our family prefers simple refrigerator pickles because they are ready in 24 hours, and they are still in their raw state. Foods that are raw contain far more minerals and vitamins than their canned counterparts. Plus, they contain valuable biophotons from the sun which regulate our immune system.
The strain "Cheese Autoflower" is a beautiful plant that is Indica Dominant based that resulted from a cross of Critical Kush and Ruderalis. This cross was then mixed with Cheese genetics to produce plants that had very high yields. A cultivar that has won awards, it is a great plant to grow in your home garden for medicinal purposes that can help promote relaxation and ease muscle tension. And because it has a very strong pungent cheesy flavor it is an excellent flower to use in culinary applications. Enjoy these infused pickles as a quick snack or appetizer and don't forget, you can make them unmedicated and they still will taste great!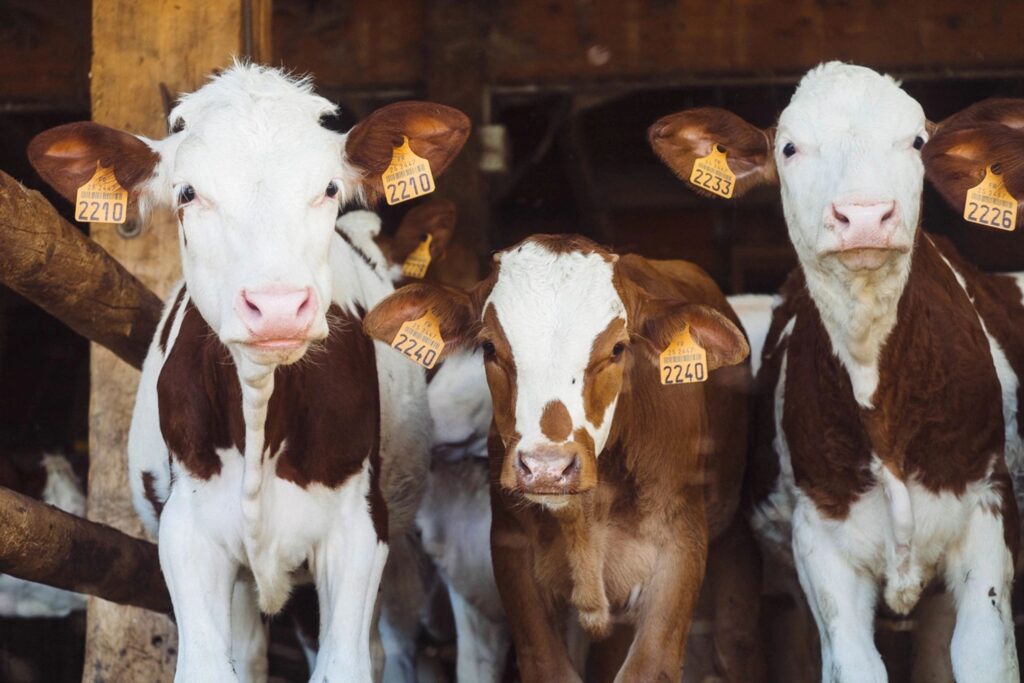 What You Will Need to Make Animal-Based Viral Cheese Fried Pickles:
Raw Cheddar Cheese
Roast Beef Slices
Raw Refrigerator Pickles
Raw Sour Cream
Brown Butter Ghee
Ranch Seasoning
Pink Himalayan Sea Salt
Cheese Autoflower Kief
Equipment:
1 Frying Pan
1 Ramekin
Serving Plate
Spatula
Substitutions:
Butter, tallow, or Lard in exchange for Brown Butter Ghee.
Any kief that has cheesy terpene flavor profiles instead of Cheese Autoflower kief.
FAQs
Can I make these without weed?
Of course! These recipes taste amazing both infused and not!
Do I need to use raw cheese and raw sour cream for Animal-Based Viral Cheese Fried Pickles?
Absolutely not, however it is recommended to use raw dairy products or low pasteurized dairy products when available.
How to Store Animal-Based Viral Cheese Fried Pickles
Once fully fried, set, and cooled you can place the cheesy pickles in a covered glass container. If you want to crisp them back up, warm in a toaster oven.
How Long Does It Last?
This treat won't last in your house, it is just so darn good! But if you happen to make extra, 4 days in the fridge should suffice. Anything past that and we recommend freezing portions.
How to Freeze Animal-Based Viral Cheese Fried Pickles
These fried cheesy pickles can be frozen, then thawed in the refrigerator, and then warmed up in a toaster oven. Place a piece of parchment or wax paper between the fried cheesy pickles and then place into a bag or container.
How to Reheat Animal-Based Viral Cheese Fried Pickles
Pull from the freezer and place into the refrigerator to defrost overnight. You can also defrost on the counter for 15 minutes before toasting. Place into a toaster oven at 300 degrees and place onto tinfoil. Bake for 10-15 minutes if the cheesy pickles were defrosted overnight or 20 minutes for pickles that are not fully defrosted.
Reasons Why You Will Love This Recipe:
Perfectly Crunchy.
Lusciously Creamy.
Will satisfy any salt cravings.
Gluten-Free.
Animal-Based.
Animal-Based Viral Cheese Fried Pickles is the perfect way to use up any ingredients in your fridge for a quick snack and makes a delicious treat as an appetizer before dinner.
More Animal-Based Savory Recipes
Animal-Based Honey Glazed G13 Sockeye Salmon
Animal Based Maple Leaf Salmon Patties
If you try this recipe, let us know! Be sure to tag a photo @chefjessicacatalano on Instagram and Facebook @ChefJessicaCatalano, Enjoy!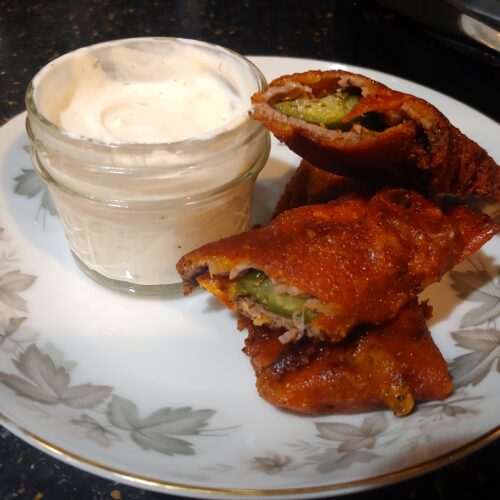 Animal-Based Viral Cheese Fried Pickles
I took inspiration from all my years of eating raw dairy to come up with this animal based fried cheesy pickle recipe. By using an animal-based raw dairy products instead of pasteurized dairy, this cheesy pickle is taken to the next level.
Follow @ChefJessicaCatalano @YogaAndAyurvedaForEveryBody @MJSChookieFarm and Tag #chefjessicacatalano if you made this recipe!
Equipment
1 Frying Pan

1 Ramekin

1 Serving Plate

1 Spatula
Ingredients
4

Slices

Raw Cheddar Cheese

4

Raw Refrigerator Pickles

2

tbsp

Brown Butter Ghee

4 slices

Roast Beef (rare side)

½

cup

raw sour cream

1

tbsp

Ranch Seasoning

.16th

gram

Cheese Autoflower Kief

Pinch

Pink Himalayan Sea Salt
Instructions
Animal-Based Fried Cheesy Pickles
Add the 2 tablespoons of brown butter ghee to the frying pan.

Place 1 slice of raw cheddar cheese in the pan once the ghee is melted and spitting.

Add 1 slice of roast beef on top of the cheese.

Now, add 1 raw refrigerator pickle on top of the beef.

Let the cheese bubble, melt, and brown to a nice brown color.

Gently, fold the cheese over the pickle and continue to brown in the butter.

Pull, when the fried pickle is dark brown and crisp on all sides. Drain on a paper towel or rack.

Let the cheese set for 1 minute.
Animal-Based Cheese Autoflower Raw Ranch Dip
Decarb your kief in the oven.

In a ramekin, add the raw sour cream and ranch seasoning.

Now, add the kief and mix well. Serve alongside your Animal-Based Fried Cheesy Pickles.
Notes
Dosage:
If a gram of Cheese Autoflower kief tests at 50 percent THC, then 500 mg of THC is present when decarbed properly. If you choose to use raw kief, then you are consuming THCA.
Therefore, substitute the number of your THC percentage and the amount of kief you have and do the math to figure out you're dosing. If you want a smaller dose, cut the flower down to a smaller portion. For a larger dose, add in more.
Stain Pairing Suggestion:
When preparing this recipe, I would recommend pairing strains that possess cheese, cream, and sweet earthy terpenes and flavonoids. If you do not have access to this strain, then use your nose and taste buds to find other cultivar's that have similar smell and flavor profiles.
Want Some More Animal-Based Recipes?
Animal-Based Date Custard Cream Pie
Animal-Based Honey Glazed G13 Sockeye Salmon
If you try this recipe, let us know! Be sure to tag a photo @chefjessicacatalano on Instagram and Facebook @ChefJessicaCatalano, Enjoy!
Share this:
---