Cannabis Coconut Chicken and Flax Waffles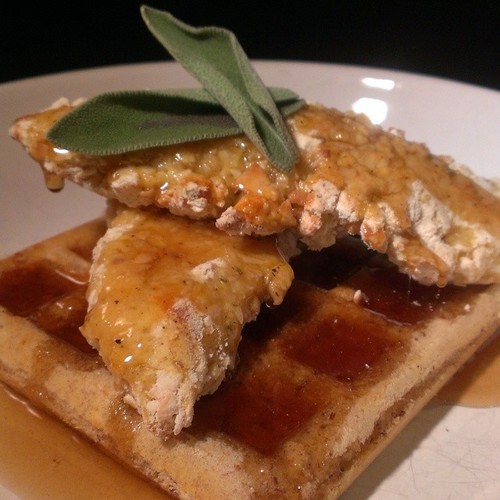 Chicken and Waffles, what more can one say? This extraordinarily delicious hearty dish comes from the American Soul food tradition that developed in the Deep South. The exact origin of this dish is unknown and there are several theories on the creation of this insanely flavorful combo.
One theory is that Thomas Jefferson introduced waffles into American cuisine after purchasing a waffle maker from France. Shortly after, African American's began enjoying the delicacy of chicken and waffles for special occasions. The second theory is that this recipe developed after the post-civil war movement of African American's to the North. In the North, fried chicken was a very common breakfast item that would be served with a morning style bread. However this wonderful meal came to be, I know that lovers of Chicken and Waffles are all very thankful for it.
In this recipe, I switched up the game by using baked coconut chicken instead of fried chicken and added tender flax waffles for a unique and lip smacking flavor profile. But I did not stop there. I paired the strain Sage with this dish as the flavors of spicy sandalwood, undertones of haze, and a slight sweetness balance this dish perfectly. Sage is a sativa dominant hybrid, with the mother being Big Sur Holy and the father a beautiful Afghani indica bred by T.H Seeds. "S.A.G.E" is an acronym for Sativa Afghani Genetic Equilibrium.
This magnificent strain at 20% THC produces an uplifting and long lasting effect. This strain is perfect for stress relief, depression, mood enhancement, fatigue, inspiration, and a little pep-in-your-step to get you going for the day. Enjoy this delightful meal with organic free trade breakfast coffee, your favorite earl grey, or fresh squeezed orange juice.
Mise en place for Flax Waffles:
1 egg
1 cup whole wheat flour
1 ½ cups almond coconut milk
½ cup AP (all purpose) flour
1/3 cup olive oil infused with 7 grams of Sage
¼ cup plus 2 tablespoons ground flax seed
2 tablespoons coconut flavored white sugar
2 teaspoons baking powder
1 teaspoon Mexican Vanilla Bean extract
½ teaspoon sea salt
1 whisk
1 large bowl
1 small bowl
1 waffle maker
Directions:
In a large bowl, combine the whole wheat flour, AP flour, flax seed, coconut sugar, baking powder, and sea salt.
In a smaller bowl, combine the coconut milk, egg, and Mexican Vanilla Bean extract. Add the wet mix to the dry mix and whisk till it starts to come together (do not over mix).
Lastly, add the infused Sage olive oil and whisk till fully combined, taking care not to over mix the waffle batter.
Choose the shape of your waffle maker which can be round or square. Lightly spray the waffle maker with a nonstick olive oil cooking spray and pour the batter onto the griddle. Follow the cooking time for your griddle to ensure proper cooking of your waffles.
Yield: 14 squares or 14 triangle sections from a round waffle maker
Mise en place for Coconut Chicken: 28 chicken tenders
5 eggs
2 cups dried sweetened coconut flakes
2 cups AP flour
½ cup Panko bread crumbs
¼ cup coconut milk
2 tablespoons High On Health Hemp Products: Bo's Spice
1 food processor
2 large flat bowls
1 small mixing bowl
1 whisk
Directions:
Preheat the oven to 425 degrees. Add all of the above ingredients, except for the eggs and coconut milk into a food processor and blend. Add some of this mixture to a flat bowl.
Now whisk the eggs and coconut milk in a small bowl then add to the second flat bowl.
Roll the chicken fingers one at a time through the egg mixture then dredge in the breading mixture. Make sure to press the breading into the chicken so that it covers all parts of the tender. When the breading mixture runs out, add more from what you made. And if you find the eggs run out, simply make another egg mixture.
Place onto a lightly sprayed sheet pan and bake for 15 minutes or until juices run clear.
Mise en place for Sage Syrup:
1 bottle 100% Canadian Maple Syrup
1 large sprig of fresh sage leaves (2 if you want a more intense flavor)
Extra Sage for garnishing (about 2-3 sprigs)
1 sauce pan
1 wooden spoon
Directions:
Gently bruise the fresh sage with your hands. Add the maple syrup and sage to a sauce pan.
Turn on the flame to the lowest setting and let the mixture slowly warm while constantly stirring.
After about 2-3 minutes or until the maple syrup becomes less viscous, pull from the stove and remove the sage leaves.
Now build your Coconut Chicken and Waffles, two tenders per waffle then pour the desired amount of Sage infused Maple Syrup over the Coconut Chicken. Garnish with fresh sage leaves and enjoy!
Share this:
---