Banana Kush Peppermint Dark Chocolate Blender Brownies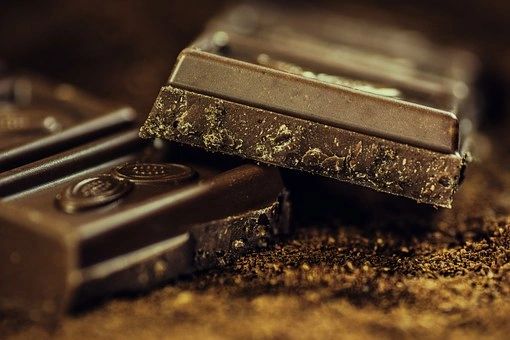 Have you ever thought of combining banana and mint in brownies before? And in a blender nonetheless? No? Just me? What might sound strange is actually one of the most delicious and refreshing flavor combinations. Did you know that mother earth actually already has this flavor combination on lock in nature? It is called a Banana Mint plant. And it is freakin' delicious.
As a classically trained high raw chef, I have a lot of tricks up my sleeves for egg or oil substitutes and banana is my ultimate favorite. I have always been a fan of frozen bananas, plant milk or water, a few mint drops, and chocolate cocoa powder as a smoothie. Therefore banana mint brownies where the batter was made in a blender wasn't such a big stretch into lalaland.
These brownies are rich and luxurious yet full of moist perfection. The strain Banana Kush, which lends a banana flavor all it's own, compounds the banana profiles in the most exciting way. The mint and dark chocolate seems to dance with the earthy banana flavors of the fruits (cannabis is an achene or dry fruit!) taking the traditional brownie to the next level!
These brownies are also a HCLF Vegan's minimalist wet dream. No oil, full of natural sugars, high carb, and all ingredients made from plants. Plus this recipe can be made in a high powered blender which means no fuss with little clean up. And it uses no flour whatsoever, so it is gluten-free to boot. Hemptarian treats are the bee's knees and are sure to please! Enjoy this treat with a big glass of plant milk and kick back for a little self love.
Mise en place:

1 cup dark cocoa powder or cocoa powder of your choice
1 cup Vegan chocolate chips
1/3 cup pure maple syrup
1/3 cup natural applesauce
2 bananas
2 tablespoons plant-based milk
2 tablespoons flax seed
1 teaspoon vanilla extract
1 teaspoon peppermint extract
1/2 teaspoon baking soda
1/2 teaspoon baking powder
1/8th teaspoon decarbed Banana Kush bubble hash
Directions:
Preheat your oven to 350 degrees.
Then in a high powered blender, add all of the ingredients. Blend until the mixture resembles a brownie batter or about 30-45 seconds. You can also choose the "puree" setting on your blender.
Pour the batter into a greased 8 x 8 pan. Bake for 30-35 minutes or until it stops jiggling.
Pull from the oven and allow the brownies to cool and set completely before cutting. They are meant to be very, very, moist brownies. Therefore cutting them hot will cause them to crumble. However, not a bad thing when over ice cream or with coconut cream 🙂 Enjoy!
*Store in the refrigerator to keep the brownies at their peak freshness!
Dosage:
If the gram of bubble hash tests at 70% THC, seventy percent of 1,000mg would be 700mg. So if you added 1/2 gram worth of kief into the total recipe at 70% THC, it would contain 350mg total for the brownies.
Therefore, sub the number of your THC percentage and do the math to figure out your dosing. If you want a smaller dose, cut the kief down to a smaller portion. If you want a heavier dose, add more kief to the batter.
Strain Suggestions:
I used Banana Kush in this brownie recipe but if you cannot find Banana Kush, do not stress! I would recommend using a strain that possess chocolate, mint, or banana like terpenes. Just follow your nose and get creative with it! 🙂
Note: This recipe was originally published on January 30, 2011 on The Ganja Kitchen Revolution origional blog. It has been retested and updated to fit the Hemptarin and Vegan lifestyle.
Share this:
---