Vegan Gluten-Free Blue Dream Terpene CBD Brownies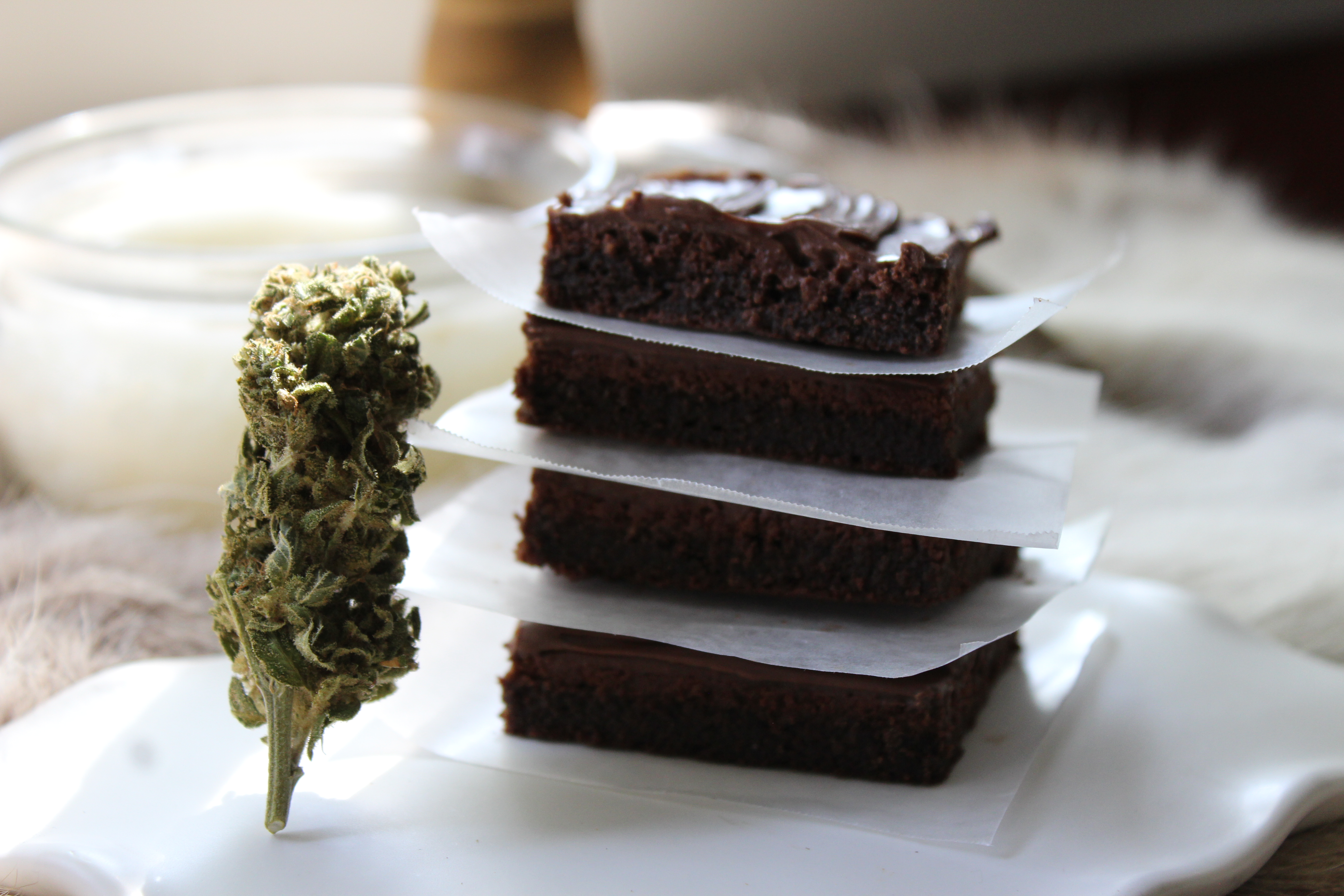 Sometimes we are just in need of a delicious warm from the oven chewy ooey gooey brownie. A dessert that spans all seasons and times of day – this treat can whipped up and baked in a jiffy. This time around I decided to swap out sugar for monks fruit, flour for gluten-free flour, and add in some Blue Dream terpenes and CBD oil.
What are terpenes? They are the essential oils that give certain strains their distinctive smell and flavor profiles. They are what sent me down the rabbit hole back in late 2009 when I started experimenting with strain specific cuisine and in 2010 when I launched strain specific recipes on The Ganja Kitchen Revolution.
These essential oils influence our mood in a variety of pleasant ways. Blue Dream terpenes for example, have an uplifting euphoria that helps make things come to fruition through brainstorming. It also lends a fruity and earthy sunkissed blueberry flavor that marries well with chocolate. Paired with the medicinal benefits of CBD oil such as reduction in inflammation and wholesome ingredients – this is one brownie that will help you feel amazing from the inside and out.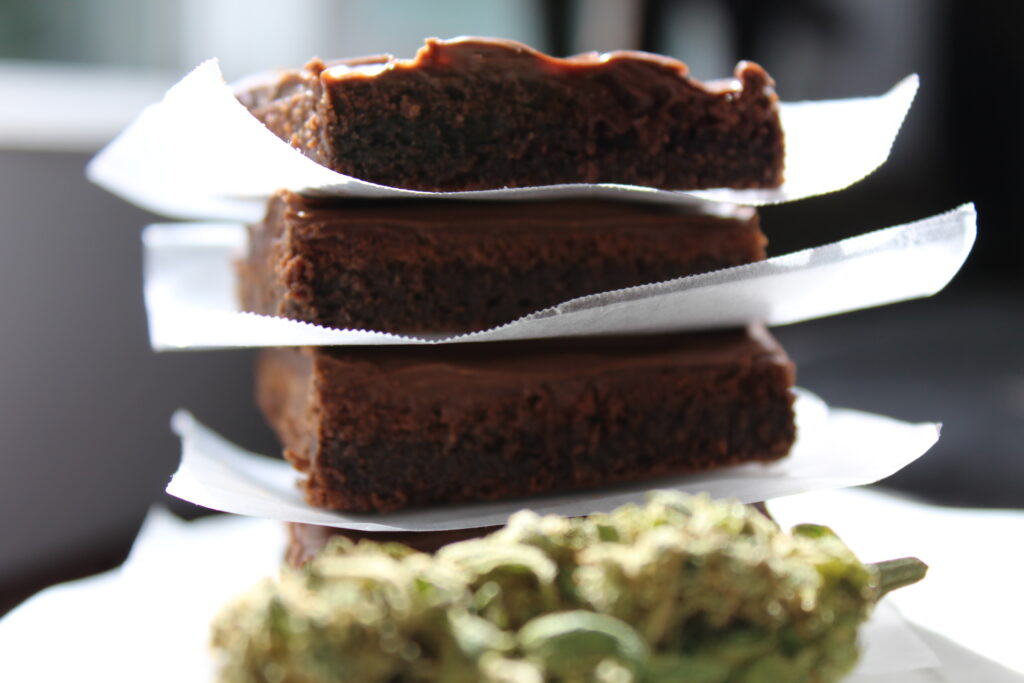 Mise en place for the brownies:
1 cup earth balance butter or coconut oil
2 cups monk fruit (cup for cup) or vegan sugar
1 tablespoon pure vanilla extract
4 ener-G egg replacers
1 1/2 cups gluten-free all-purpose flour (cup for cup)
1 cup cocoa powder
1 teaspoon pink Himalayan sea salt
Mise en place for the frosting:
6 tablespoons earth balance butter or coconut oil (coconut melts around 76 degrees F° fyi)
12 drops of Blue Dream Terpenes
Desired CBD dosage, follow package dosing
1/2 cup cocoa powder
2 2/3 cups powdered sugar
1/4 cup coconut or other plant-based milk
1 teaspoon pure vanilla extract
Directions for brownies:
Preheat oven to 350 and grease a glass pyrex container for brownies. A 8 x 8 or 8 inch variety will work.
Melt the butter and add to a bowl. Now add the vanilla and sugar. Beat with a stand mixer or hand mixer.
Now add in the egg replacers and beat again.
Add in all of the brownie dry ingredients and blend until fully incorporated.
Pour and scrap thebatter into a glass pan and bake for 30-45 minutes or until a toothpick comes out clean.Remove
After baking, remove from oven and completey cool before frosting.
Directions for frosting:
*Before making the frosting you need to infuse the butter or coconut oil with the terpenes and CBD oil. Simply melt the butter or coconut oil in the microwave and let it cool down a bit too a warm liquid. Add the terpenes and CBD oil, stir until incorporated and then place into the fridge to solidify. When it is solid again, pull from the fridge and set on the counter to come to room temperature before making the frosting. Depending on how much CBD oil you add, you might need to add more powdered sugar and cocoa to thicken up the frosting. Do this in increments of tablespoons to get it to the right consistency.
Add the room temperature butter and cocoa powder to a bowl and beat with a mixer.
Add powdered sugar and milk in increments. Then add the vanilla extract.
Using a spatula spoon out the frosting into the desired thickness. Cool in the fridge to get picture perfect brownies or eat immediately with a refreshing glass of plnt-based milk. Enjoy!
Share this:
---