The Best Munchies for 420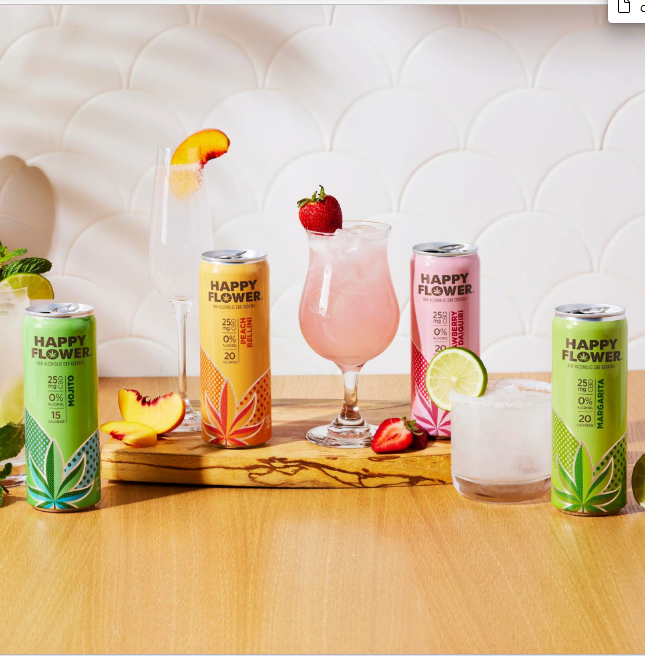 Let's face it, every smoke-sesh is not complete without a decadent array of treats, especially on this special holiday (or week, go on, do it)! 420 is a day of massive celebration, and we all need to be prepared with the best munchies in hand.
These twelve best 420 munchies products will make any party (or week-long celebration) worth remembering! Pack them in your festival bag, tote, or man purse to keep them handy in case hunger or cotton mouth strikes.
In the intersection of food and cannabis, nothing is more exciting than getting your munchie stash ready for the big day. Organizing your food and drink with these snacks are a surefire way to make certain you are comfortable, hydrated, and energized for all the festival activities!
The following products have been tested by many people and have proved themselves to be edibles and drinks worthy of your attention. Healthy and clean, they will be sure to keep your body running optimally on one of the biggest cannabis holidays of the year.
These stoner munchies will bring your 420 celebrations to the next level.
Hi-Ball Energy Drink
Let's face it, 420 is a busy day, energy dips and the dreaded "3pm slump" is inevitable. Thankfully Hi-Ball energy drinks are a life saver when it comes to getting a quick pick me up that is inclusive of the multitude of diets or food restrictions out there.
Hi-Ball has zero: sugar, calories, carbs, gluten, preservatives, artificial sweeteners, and taurine. Which also makes these lovely drinks keto and diabetic friendly! The natural caffeine, guarana, ginseng, and vitamins pack a powerful punch to energize you on the go. And the flavors are absolutely refreshing and crisp!
Price: $22.79 for 8 rack
Good Planet Vegan Cheeses
No celebration is a true celebration without cheese, especially if it is Vegan cheese that directly supports environmental conservation. No stoner can argue with that! Plus, it is a good option for people who are lactose intolerant but still want to enjoy cheese! Good Planet takes plant-based cheese to the next level both in taste, texture, and smokiness.
A vegan smoked cheese that rivals real cheese, is perfect for charcuterie boards, snack trays, and in any culinary application that requires full on melty goodness. Good Planet has also made all their cheeses completely free of any allergens, which means you can snack with a peace of mind. Plus, they are keto and kosher to boot!
Price: $5.99
The Spice Guy
What could make kitchen spices better for all the stoners out there? Maybe making those spices non-gmo and ethically sourced from farmers from all over the globe? Why, yes, that makes it better!
But seriously, these spice blends are so on point that you will be dreaming of using them every day! Seriously. Like, seriously, seriously. You will become obsessed. "Midnight Toker", blends several badass Syrian grown chilies that have notes of sweetness and fruit that balances out the heat in this rub. Perfect for all the stoners out there who like to get their chef on in the kitchen or outside on the grill on the big 420 day.
Price: $8.75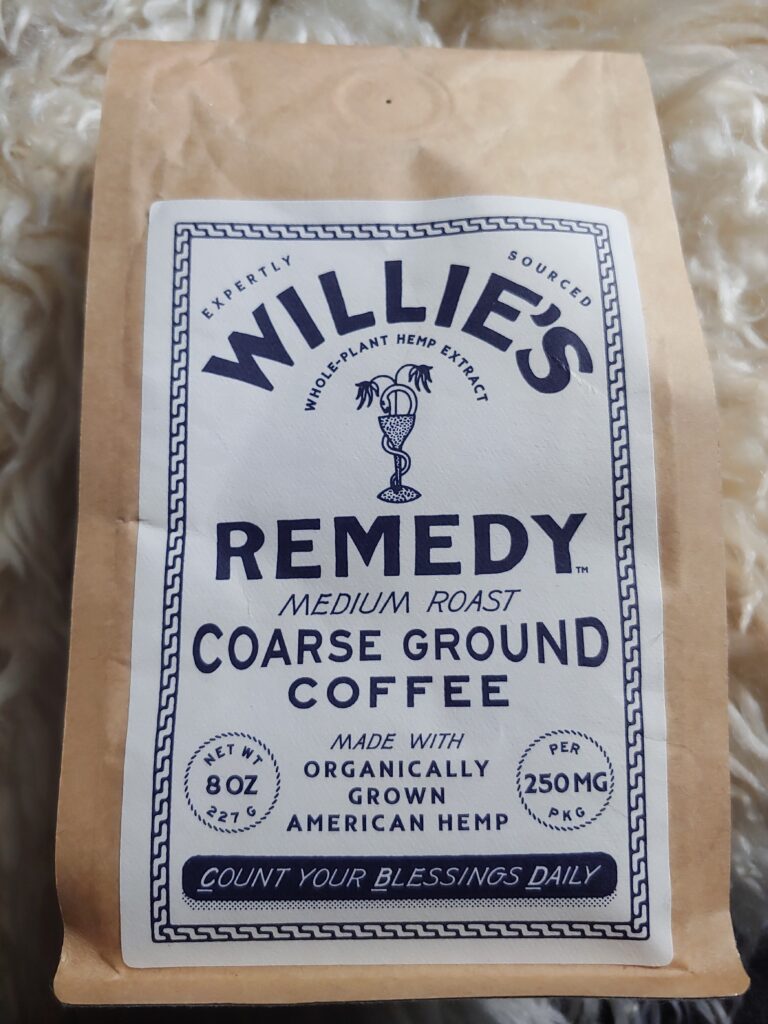 Willies Remedy Coffee
If you are feeling the Twin Peak vibes, Willies Remedy is here to make sure you have a damn fine cup of coffee. Just be sure to add a slice of cherry pie on the side to make the Double R Diner experience authentic. But all Twin Peak fandom fun aside, Willies Remedy coffee is a quality cup of full-spectrum hemp coffee.
This coffee uses ISO-9001, GMP standards, and organic growing practices. "Fair Trade-certified Nicaraguan coffee from the woman-focused SOPPEXCCA Co-Op and Colombian coffee from mission-driven co-op catalyst, Colombian Risaralda Co-Op, Willie's Remedy offers coffee you can feel good about with a taste to savor."
Every sip of the sweet chocolate cake and brown sugar undertones with hints of orange zest make this the perfect pick-me-up after that 420 rally! The company also is farmer forward with a commitment to environmental stewardship, something us stoners can get behind!
Price: $25.50
Terra Vita Sleep Tincture
When it comes to CBD oils and tinctures, let's be real, "snake oil" is a real issue. Thankfully, brands like Terra Vita blow the competition out of the water. Made in the USA, lab-tested, non-gmo, pesticide free, and vegan – this tincture is sure to please any sleep deprived stoner!
Full-spectrum CBD combines beautifully with sedating terpenes and melatonin to help you fall asleep faster and stay asleep throughout the night. If you are in need of restorative sleep, then look no further. When used on the daily, this tincture will help regulate the bodies circadian rhythm helping any stoner who struggle with getting to sleep and staying asleep. The perfect way to unwind after a busy day of festivities.
Price: $75.99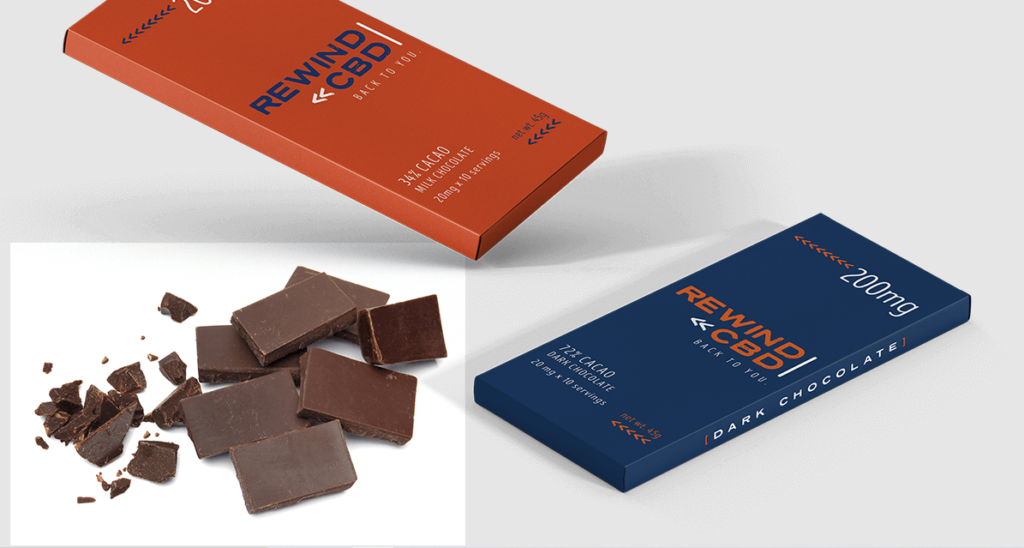 Rewind CBD Dark Chocolate
This mouthwatering vegan dark chocolate CBD bar is bliss in every bite! Made with Vegan Friendly 72% Belgian Dark Chocolate and infused with 200mg CBD (ten 20mg squares of chocolate per bar) – this is the ultimate CBD fine chocolate bar!
Quality and consistency are a few of the major selling points of this artisanal chocolate bar which is sure to please any dark chocolate snob out there. And with 99% pure CBD isolate, this product will refresh and restore a tired body without any of the intoxicating effects of THC. It is also the perfect bar to counter any ill effects of consuming too much THC.
Price: $24
MOM GRASS CBG Joints
While not technically a munchie, pairing a CBG joint with a plate of freshly curated munchies of your own, will definitely help to bring you down from a heady experience. "CBG is the key ingredient in the 100% organic hemp we roll up into our new Mom Grass Joints. CBG is extra special. Rare and powerful. A bit of a mystery. Just like the moms in our lives." – MOM GRASS
Organic, 100% full spectrum, American grown hemp rich in CBG, what more could a stoner want? This is perfect for when you need some down time from a busy schedule to chill out your body and gently focus the intellect. It is also the perfect joint to whip out before or during dinner on 420 as the grounding qualities on the body are out of this world. That pretty much sums it up. Badass and on point!
Price: $70
Koi Complete Gummies
The game changer has arrived. Too amped up and turning into a night owl on 420 but need to sleep pronto? This is your answer. An absolutely yummy and natural way to fall asleep quickly without the nasty side effects of sleep pills. With 10 mg CBN, 25 mg CBD, and 5 mg delta-9 THC per gummy – this black cherry gummy packs a powerful punch!
The calming combination of these cannabinoids form strong sleep promoting qualities that help you catch your zzz's quickly. Because these gummies help with a solid and uninterrupted sleep cycle, you wake up restored. Which is the perfect way to sleep off all the 420 shenanigans you may or may not have been involved in.
Price: $59.99
Happy Flower CBD Drink
Add this to your "must have list" to quell dreaded cottonmouth. Like, right now. Not only will this tame the desert in your mouth that is a very real consequence of getting too lit – but it will also tame the THC dragon. A 2-for-1 that you absolutely cannot beat when it comes to 420 this year.
These mocktail drinks come with 25mg of naturally derived CBD per can paired with sparkling flavors that you know and love. Flavors like peach bellini, mojito, margarita, and strawberry daiquiri are sure to quench your thirst. Zero percent alcohol, zero percent hungover, pure relaxation really is their motto.
L-Theanine and full spectrum hemp tag team to bring you a relaxed state that is uplifting and clear headed. This naturally occurring amino acid promotes relaxation and an alert state of calm without any drowsiness or grogginess.
Margaret's Mix Organic
Can we just talk about the ingredients here? Talk about the ultimate hippy trail mix – chock full of super foods that is certain to slay the hunger beast! Organic roasted salted cashews, organic mulberries, organic sultana raisins, organic roasted salted Austria pumpkin seeds, organic golden berries, organic cacao nibs. Yes, to all of that!
It is just pure hippy granola chic from Colorado that is so full of pure cosmic goodness. It is a necessity that you buy 1 or 2 of these bags because you are going to need it. 420 activities have most people running from one side of town to the other. Margaret's Mix Organic fulfills the need for energy, killing the munchies quickly, and keeping your blood sugars from dropping too low. Did you know that cannabis can lower blood sugar? Well now you do. So got get yourself some Margaret's Mix to keep you levelheaded during the big day.
Price $5.49
Rocky Mountain Spring Water
The most pristine and sustainable way to stop cottonmouth dead in its tracks is water that comes straight from the Rocky Mountains. This water is gathered using a gravity-fed method that uses no energy; there are no electrical pumps required, and the water is bottled right at the source! Because aluminum is infinitely recyclable and unlike plastic, it is used to package the product (with BPA-free liners).
Due to the earth-infused electrolytes and minerals from the Rocky Mountains, it is naturally alkaline (+/- 8.5pH) and incredibly pleasant. Additionally, the bottles can be used until your subsequent trip to buy more and there is no additional fluoride added. This spring water is refreshing yet naturally grounding – two things we all need more in our lives!
Cascade Hemp Honey
Raw, organic, unfiltered honey straight from the hive that you can take with you on the go? Yasss, please! This is a straight winner as it calms the sweet tooth that often rages within when the munchies take hold. And because it is a slim sachet, it can be stashed in your back pocket, bra, or bug out bag.
The neighborhood of Cascade Heights in Southwest Atlanta is home to Milagro Farms. This is where the wonderful deliciousness of Cascade Honey is curated by our millions of worker bees, surrounded by distinctive freshwater torrents that feed the Chattahoochee River and covered by a spectacular canopy of flora and fauna.
Cascade Hemp Honey provides a therapeutic experience unlike any other by combining premium CBD with specific products raw honey products. Using two of nature's gifts, this honey soothes a dry mouth, slays the sugar dragon, and helps to stabilize low blood sugar which can make one feel woozy if they smoke too much weed. Thank goodness for that!
Share this:
---