Red Headed Stranger #6 Elote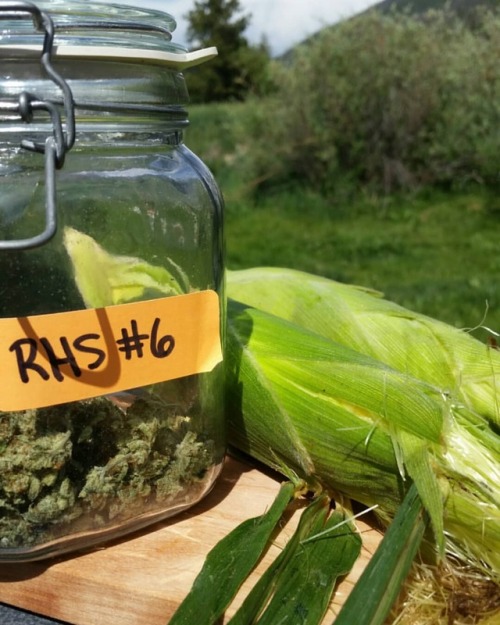 Mexico has one of the most widespread street food cultures in Latin America prepared by traditional markets and vendors. Corn on the cob or "Elote" is an immensely popular street food that is served on the cob or cut into kernels. This delightful delicacy is not only found on the street but also enjoyed at restaurants, stores, and in the comfort of homes.
By tradition elotes are boiled or grilled in the husk then covered with condiments. Sour cream, mayonnaise, cheese, butter, chili powder, hot sauce, lime juice, and salt are popular choices in toppings. This is one recipe this summer that you don't want to miss! Not only will you wow your own taste buds with the marriage of elotes and Red Headed Stranger #6 but also the taste buds of others taking your grilling game to the next level.
When choosing what strain to cook this traditional recipe with, I decided to go with the sweet candied key lime haze flavor profiles of the Red Headed Stranger #6. This strain not only pairs perfectly with the ingredients of the elotes but also packs a medicinal punch that will leave you wanting to have the strain on hand at all times.
After the medicine begins to take hold you will feel your body ascend rapidly yet comfortably into a euphoric social state that is highly relaxing yet highly functional. Muscle pain melts away while your body begins to ease into a very content frame of mind. Depression and anxiety of any kind will dissolve easing the consciousness while also stimulating a laid back state of introspective creativity worth sharing. But as easy going as this strain becomes it also stimulates controlled energy making it a great medicine to take on long modest walks, leisurely days rafting or boating, or on easy hiking trails.
Summer is short, so be sure to enjoy this recipe before the season starts to shift. Elotes are simple to make and really create an enjoyable social experience for both you and your guests. Then by adding the charming notes of cannabis guests might discover a new strain that works better for them or fall in love with a familiar strain all over again.
If you do not have Red Headed Stranger #6 there are several alternative strains that you can substitute with that have similar terpenes, terpenoids, and flavonoids profiles. Lime Green Skunk, Lime Haze, Lemon Lime Kush, Key Lime Pie, and Chernobyl are perfect selections. Now that you have the perfect summer time infused recipe, what are you waiting for? Go get your grilling game on!
Mise en place:
4 whole corn cobs
4 lime quarters
¼ heaping cup fresh cilantro leaves
¼ heaping cup herbed goat cheese
¼ cup sour cream
¼ cup melted Red Headed Stranger #6 cannabutter infused with 2 grams (you can also use olive or coconut oil)
1 tablespoon regular butter
Black Hawaiian sea salt
Garlic powder
Paprika
Black pepper
Dash of sugar
Directions:
Shuck the corn and remove all fine hairs. Bring a pot of water with a dash of sugar to a boil then add the corn. Boil the corn for 11 minutes then pull from the water. Drain the corn and gently pat dry. Gently divide and rub 1 tablespoon of regular butter onto all four corn cobs. Season the corn with black sea salt, garlic powder, and black pepper.
Carefully transfer the corn cobs to a grill. Blacken the corn cobs to your liking without burning them completely. You want to create beautiful char marks that will create a deep smoky flavor. Rotate the corn as needed on the grill to achieve this. Once the corn is ready, pull from the grill and transfer to a sheet pan.
Carefully rub 1 tablespoon of Red Headed Stranger #6 cannabutter per corn cob. Make sure to fully cover all kernels. Now rub on 1 tablespoon of sour cream per corn cob. If you love sour cream feel free to add on extra if desired. Generously sprinkle the paprika, goat cheese, and fresh cilantro onto the corn cobs. Again, if you feel you want more goat cheese or cilantro, have at it. Squeeze one lime quarter per corn if desired and enjoy!
Dosing:
The RHS #6 THC percentage has not been tested therefore you are going to have to rely on dry weight measurements instead. I recommend 2 grams so that every serving of corn contains .50 grams worth of cannabis flower medicine. If you would prefer 1 gram per person that is completely fine as well. To fine tune your dosage check out the dosing chart in my book which recommends prescriptions from the lowest to highest to make sure you are neither under or over medicated, but have rather found your happy dose.
Alternative Strains:
If you cannot find RHS #6 there are several alternative strains that possess similar terpenes, terpenoids, and flavonoids. Substitutes: Lime Green Skunk, Lime Haze, Lemon Lime Kush, Key Lime Pie, and Chernobyl.
Share this:
---