Strawberry Cough Chocolate Body Paint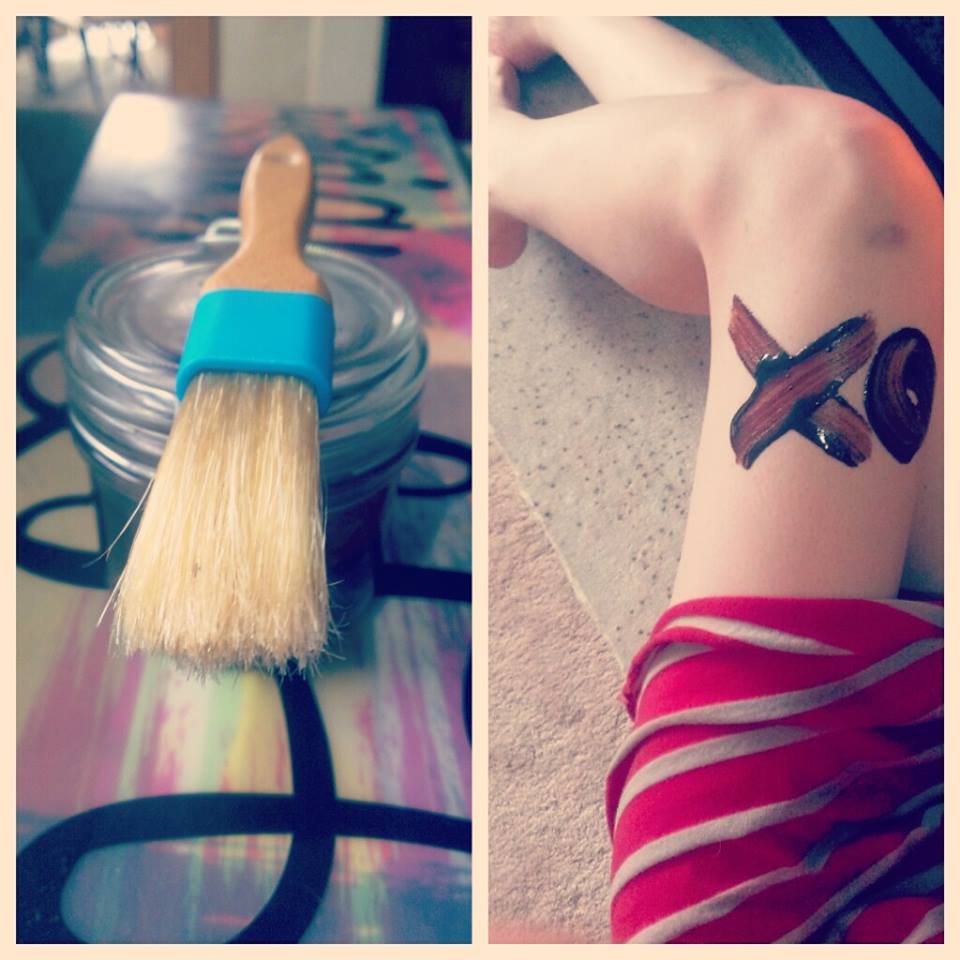 Body painting has existed in almost all of tribalist cultures across the world. Typically, organic pigments such as ground seeds, tree bark, charcoal, insects, plants, and clay have adorned human skin in history. Whether religious, ceremonial, tribal, or during war, body painting has been something that human beings have connected to since the beginning of history.
As Western society developed, this art form began to become forgotten until 1933 at the World's Fair. A man by the name of Max Factor took a burlesque dancer, Sandy Rand, and took her out on the streets during the fair then painted her for all to see. During 1933 this was an outrageous public disturbance at the time and both were swiftly arrested.
Unfortunately for Miss Rand, this was her fourth time being arrested in one day at the fair. Miss Rand was known for her "Fan Dance" which prompted her appearance at the World's Fair "A Century of Progress". That day, Miss Rand was arrested for indecent exposure from her fan dance, for perceived nudity, then while riding a white horse down the streets of the fair, and then again after being painted by Max Factor with a new make-up formulated for Hollywood films.
In the 1950's, there was a revival movement of body painting in an alternative art movement in which a nude model was painted then told to roll around on canvas to create art. A French artist by the name of Yves Klein was the most famous artists in this movement for his series titled "Anthropometries". Multiple colors were used to highlight the curves of the female body as the model transferred the paint onto canvas. Thanks to this resurgence, the practice of body art has ingrained itself into our culture still to this day. Whether it is at a concert, sports game, burlesque show, body painting festival, music festival, or at home, we collectively seem to enjoy this tribal art.
I decided to hit up Keystone Resort to Snowboard and look for some inspiration in nature for this month's recipe. While Deltron 3030 blasted in my headphones and I charged the slopes hard, I boosted off a natural roller and landed in a small patch of baby pine trees. Going too fast, I ran my board right over a baby pine tree but thankfully the little plant sprang back up but a bit gruff looking. When I finally made it down the mountain, I checked the bottom of my board to see the damage. The baby pine tree had superficially gouged my board and left a streak through my wax.
Suddenly, with the song "Upgrade" blasting through my speakers and running my fingertips over the boards new battle scar I was inspired. Strawberry Cough Chocolate Body Paint hit my brain and I abruptly saw the image in my mind's eye, a naked female figure with luscious chocolate body paint whimsically all over her skin. This is extremely simple recipe, but the most enjoyable, as it is meant to be relished with your partner in crime.
The sweet strawberry and cream flavors of Strawberry Cough pair perfectly with the notes of chocolate, strawberry extract, and vanilla extract. At 80% sativa, this strain discovered by Kyle Kushman, rocks an uplifting positive mood providing a sense of well-being and happiness. It is also a strain that produces an overwhelming sense of motivation and engagement in activities. It produces a highly social mood with the propensity for giggle fits and the desire to connect with others. When medicated on this strain with your loved one, all of these feelings come through in addition to deep carnal urges. Enjoy fireside in the mountains, in the privacy of your bedroom, during your special Valentine's Day Celebration, or wherever and whenever you desire.
Mise en place:
1/3 cup organic cocoa powder
1/3 cup organic coconut palm sugar
3 tablespoons water
2 tablespoons melted Strawberry Cough sweet cream cannabutter (Infused with 4 grams of organic bud or 1 gram of shatter)
½ teaspoon organic Mexican vanilla bean extract
½ teaspoon organic strawberry extract
1 pinch pink sea salt
1 whisk
1 sauce pan
Jar of your choice
1 food grade paint brush
Directions:
Add the organic coconut palm sugar, pink sea salt, and water to a sauce pan. Bring this mixture to a boil without whisking and allow for the sugar to dissolve. Once the organic coconut palm sugar has somewhat dissolved and come to a boil, remove the sauce pan from the heat immediately.
Add the Strawberry Cough cannabutter and whisk until incorporated. Add the Mexican vanilla bean and strawberry extract into the container that had the melted Strawberry Cough cannabutter and shake to pull any excess butter from the sides.
Pour into the sauce pan and then stir the mixture until fully combined. Lastly, add the organic cocoa powder and whisk until the mixture becomes homogeneous.
Pour the Strawberry Cough Chocolate Body Paint into the jar of your choice and let it cool to a comfortable temperature for you and your sweetheart to paint with.
If the Strawberry Cough Body Paint becomes hard, simply warm it in the microwave for 15-20 seconds or put it in a warm water bath until it reaches the temperature and viscosity that is desired. Get creative with your painting and explore different brush sizes for different effects. Enjoy every lick!
Storage: Keep in the refrigerator for up to a week.
Share this:
---