Raw Vegan CBD Tom Kha Gai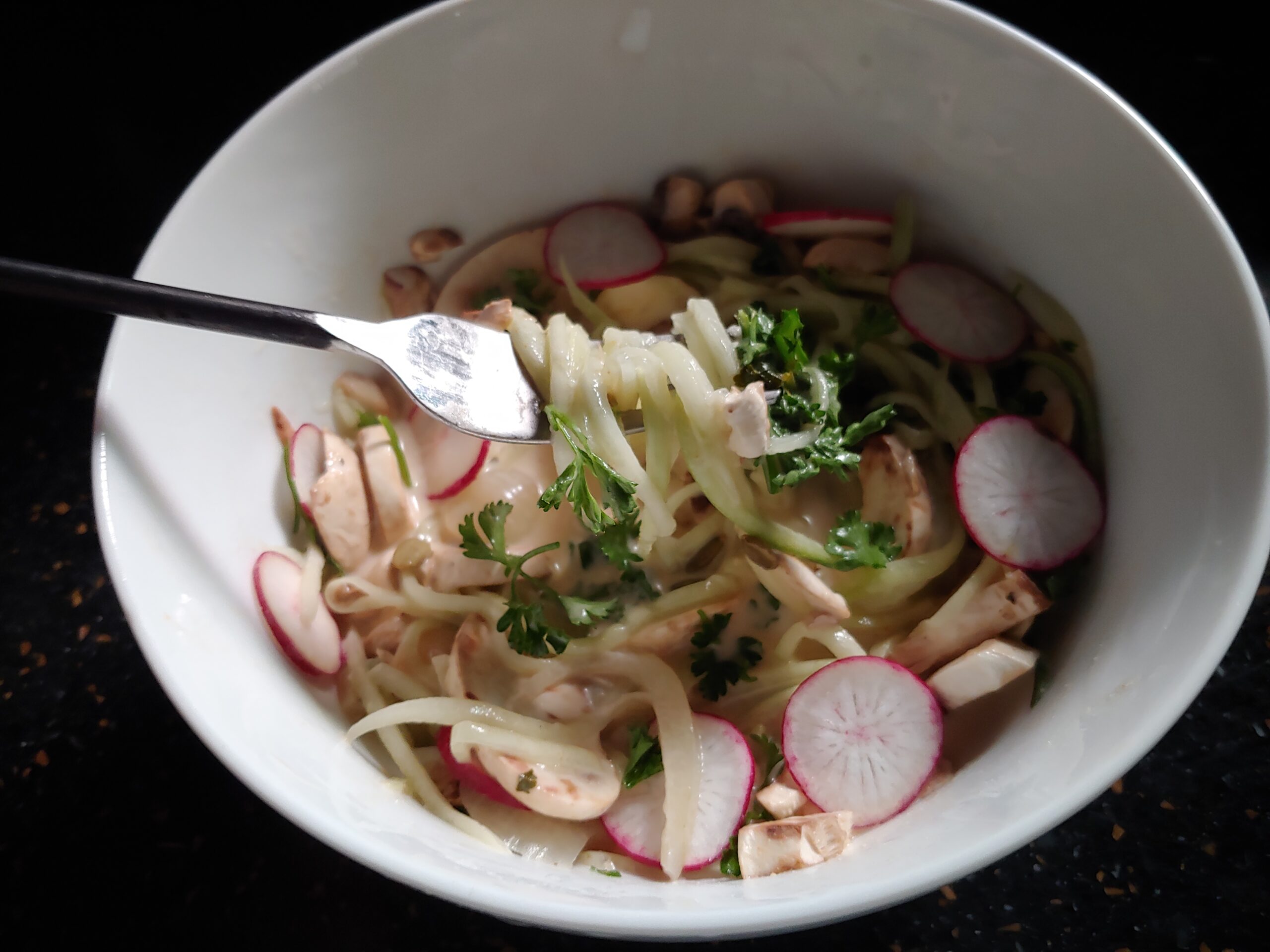 Tom Kha Gai is one of those dishes I could never get enough of in my life! One of my most favorite Thai dishes and comfort foods. Traditionally this dish is slow cooked over the stove in a gentle manner with love and care. However, did you know you can also enjoy this wonderful soup raw vegan? And yeah, it actually tastes good.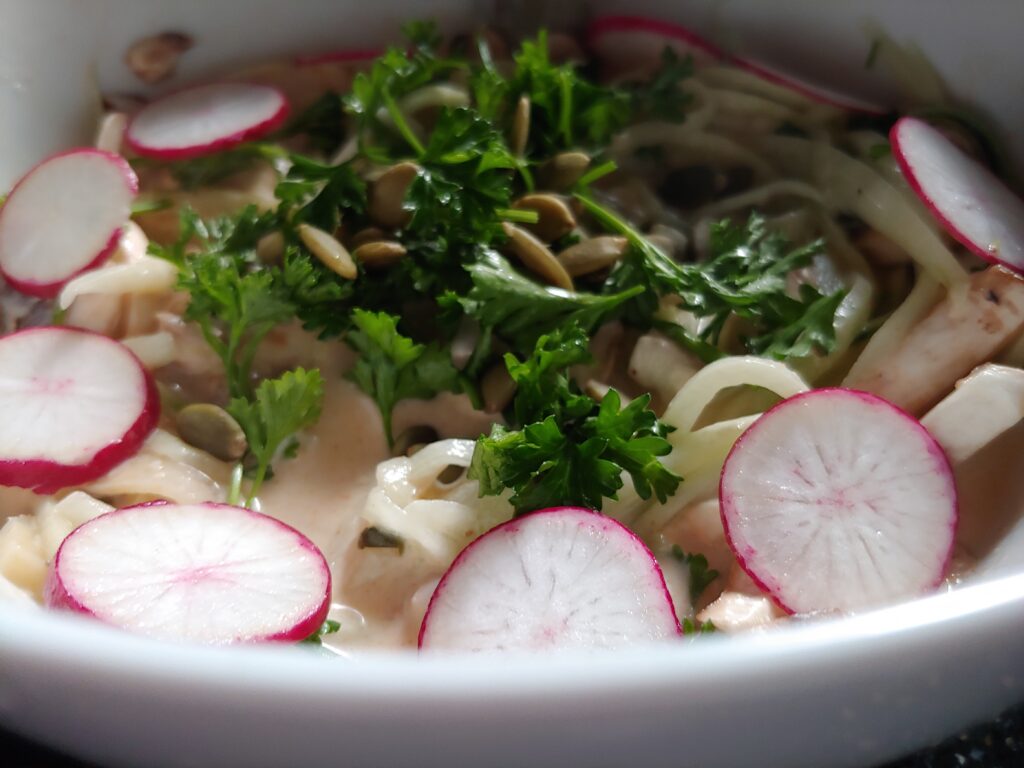 While this recipe has the backbones of a traditional Tom Kha Gai, it also has some not so familiar ingredients that I tend to throw in there for added nutrients. Eating a high raw diet doesn't have to be boring nor does it have to lack flavor. You will find that everytime you turn a favorite cooked dish into a raw one, it becomes a bit of a challenge and game. Before you know it, you will be on the hunt for ingredients trying to "raw veganize" old recipes with great enthusiasm and joy. It is a process that sparks great joy and love even more into the foods you create.
This raw vegan Tom Kha Gai can be enjoyed any season, even the winter! Just cozy yourself up in your favorite sweater sitting fire side and this will be the most refreshing raw soup you ever dreamed of. And don't forget, raw vegan recipes are very fluid, which means anything goes! Enjoy!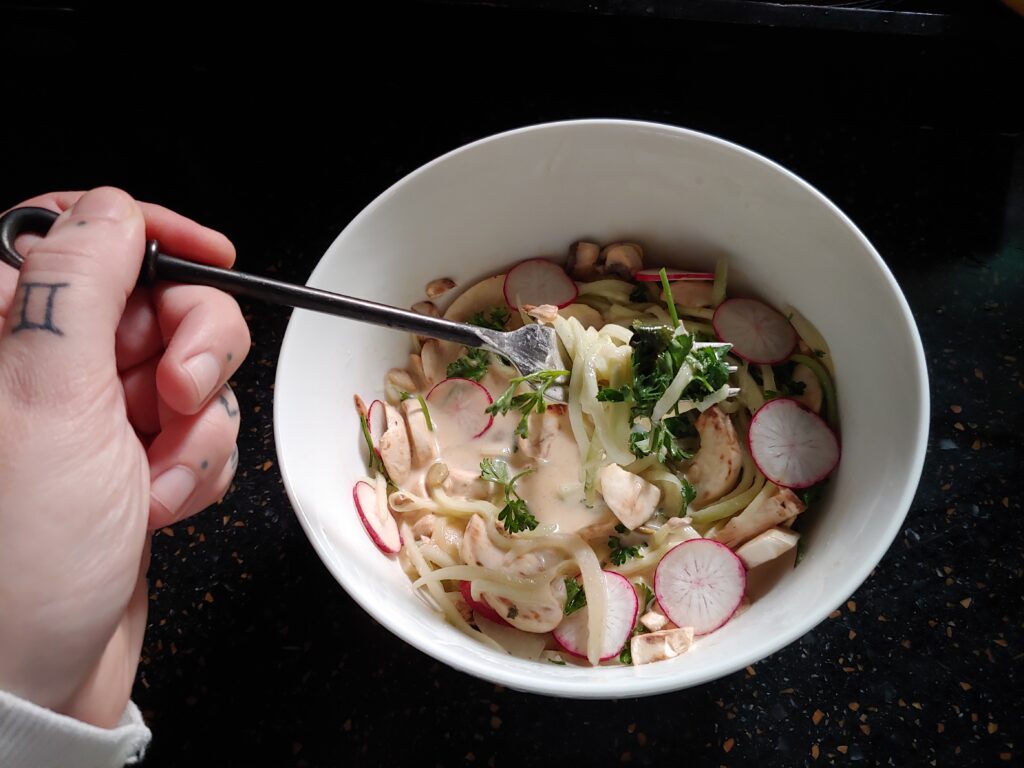 Mise en place:
1 young Thai coconut
1 large cucumber made into doodles (use a mandolin or rotating hand peeler)
1 tomato
1 small jalapeno
2 cloves garlic
1/2 cup sliced mushrooms very thin
1/4 cup raw coconut sugar
1/4 cup sliced red peppers very thin
1/4 cup Thai basil minced
1/4 cup cilantro minced
1/4 cup sweet onions sliced very thin
2 teaspoons minced galangal
2 teaspoons minced lemongrass
2 teaspoons cold pressed extra virgin olive oil (always a live food, did you know that?)
2 lime wedges squeezed
1 teaspoon curry powder
1/4 teaspoon CBD sea salt
1/2 teaspoon chili powder
Garnish: Thinly sliced radishes, parsley or cilantro, and raw pepitas (optional).
Directions:
Crack open the young Thai coconut and pour the water into a high powered blender. Scoop out the coconut jelly/meat and add.
Add the tomato, garlic, jalapeno, lemongrass, raw coconut sugar, galangal, olive oil, lime, curry, CBD salt, and chili powder. Blend on high until combined.
In a large bowl, add cucumber coodles, mushrooms, red peppers, Thai basil, cilantro, and onions. Pour the soup over the bowl of ingredients and mix well. Garnish with your favorite toppings and enjoy!
Share this:
---