McFly Biscuits and Gravy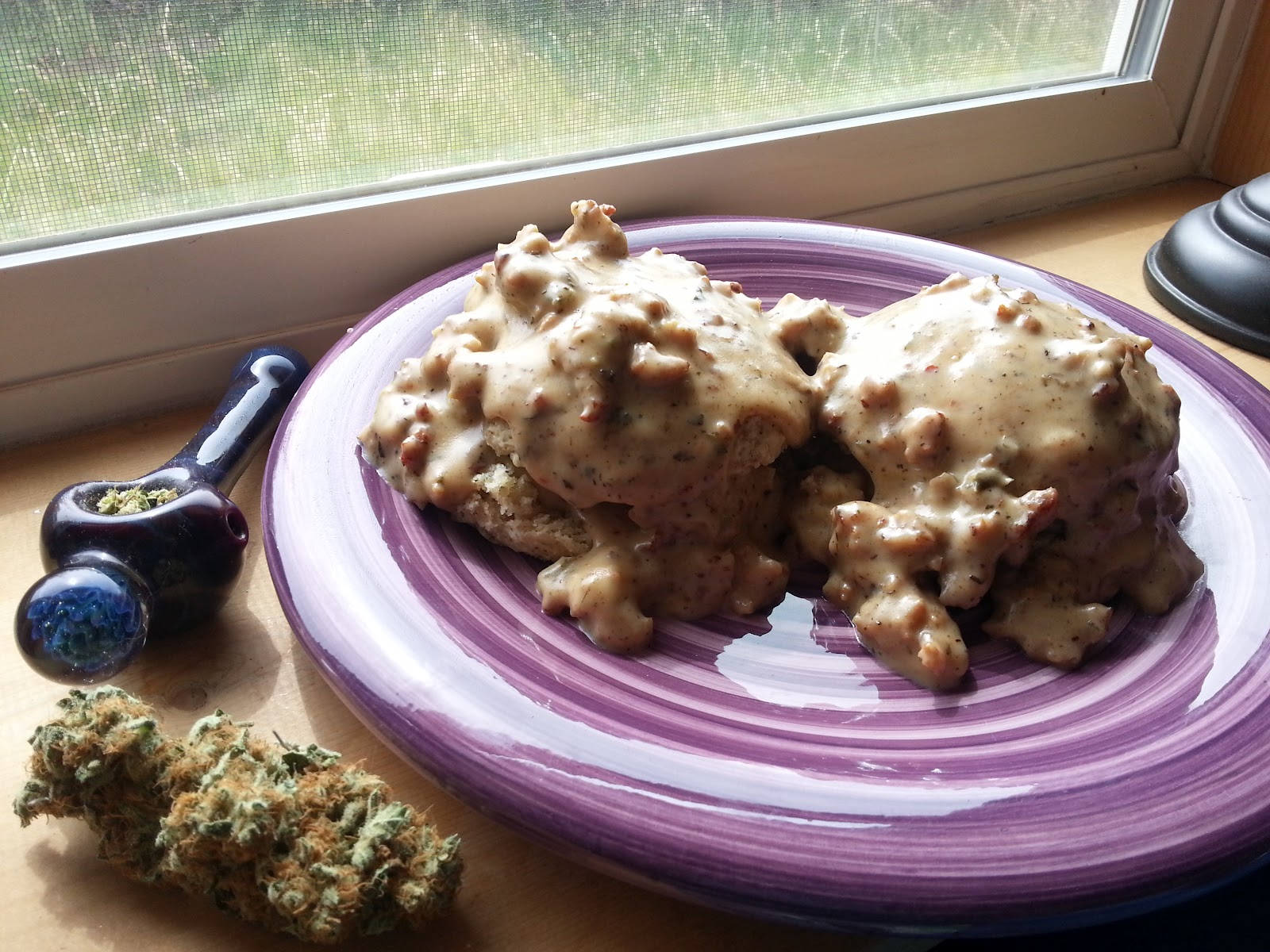 What is one of the most popular breakfast dishes in the United States, especially in the South? Biscuits and gravy of course! This stick to your ribs breakfast is perfect for the first meal of the day to power you through your schedule or for a relaxed Brunch with friends. These tender biscuits are seasoned with savory herbs and spices that will turn you into a biscuit-aholic. The country gravy in this recipe has been completely revamped from traditional gravy by the addition of the McFly strain and a special seasoning blend. With each bite, you will notice the spicy yet earthy dank tones of the McFly dancing with the complimentary flavors of the jalapeno sausage and seasoning blend. This hybrid will grace your mind with a soaring head high while giving you relaxing body benefits. This is one biscuit and gravy recipe that will have you wanting more even with a full belly!
Mise en place:
For the biscuits:2 cups flour
1 cup buttermilk
6 tablespoons cold butter
1/4 cup sugar
2 teaspoons Sun Dried Tomato Mrs. Dash
2 teaspoon Original Mrs. Dash
1 teaspoon vanilla extract
4 teaspoons baking powder
1/4 teaspoon baking soda
1 pinch sea salt and a tiny bowl of reserve sea salt
For the gravy:
3.5 grams decarboxylated McFLy
3 jalapeno sausage links uncased or 1/2 pound ground sausage
3 cups cold milk
4 tablespoons flour
3 teaspoons no salt seasoning blend of your choice
2 tablespoons unsalted butter
2 teaspoons dried chopped onions
1 teaspoon dried garlic slices
cracked black pepper and sea salt to taste
Directions:
To properly decarboxylize kief: Preheat your oven to 220 degrees F. Take a baking sheet and lay parchment paper down. Carefully sprinkle the kief onto the sheet, making sure that it is evenly disbursed. Place the baking sheet into the oven uncovered and heat for 25 minutes.
Pull the baking sheet from the oven, and let it cool completely. The kief will become sticky so be very careful when removing it from the pan. You now have decarboxylized or "activated" medical kief that is ready for consumption.
Now preheat your oven to 360 degrees. In a large bowl combine all of the dry ingredients then cut in the butter. Slowly add the buttermilk with one hand while gently mixing with the other. While you are mixing be careful not to over mix the dough or it will become too glutenous.
Once the dough is formed, roll out onto a floured cutting board or counter and cut the dough into rounds. You can use a biscuit cutter or a round cookie cutter to do this. Take your reserve bowl of sea salt and gently sprinkle it on the tops of each biscuit. Place the rounds onto a baking sheet and bake for 15-18 minutes, or until a toothpick comes out clean. These biscuits will come out tender and light in color when done right.
In a skillet, add the sausage, spices, herbs, and McFly. Fully cook the sausage, then transfer the sausage into a small bowl to hold. Keep all of the drippings from the sausage in the pan and melt the butter.
Using a whisk, slowly add the flour to make a roux. You need to keep whisking as you add, otherwise you will burn it. Continue to whisk and slowly add the milk. Continue to whisk until the gravy mixture cooks down and thickens. Once the gravy is thick, add the meat back in. Continue to cook and whisk until the meat has warmed back up again.
Cut a biscuit in half, and pour some gravy into the middle of it. Put the top of the biscuit back on and pour even more gravy on top of the biscuit. Enjoy with your favorite cup of coffee, tea, or breakfast drink of your choice.
*Recipe originally published on 9/23/2012 then the Daily Doobie on 7/21/2013
Share this:
---
---