Gluten-Free 5 Ingredient Kief Peanut Butter Cookies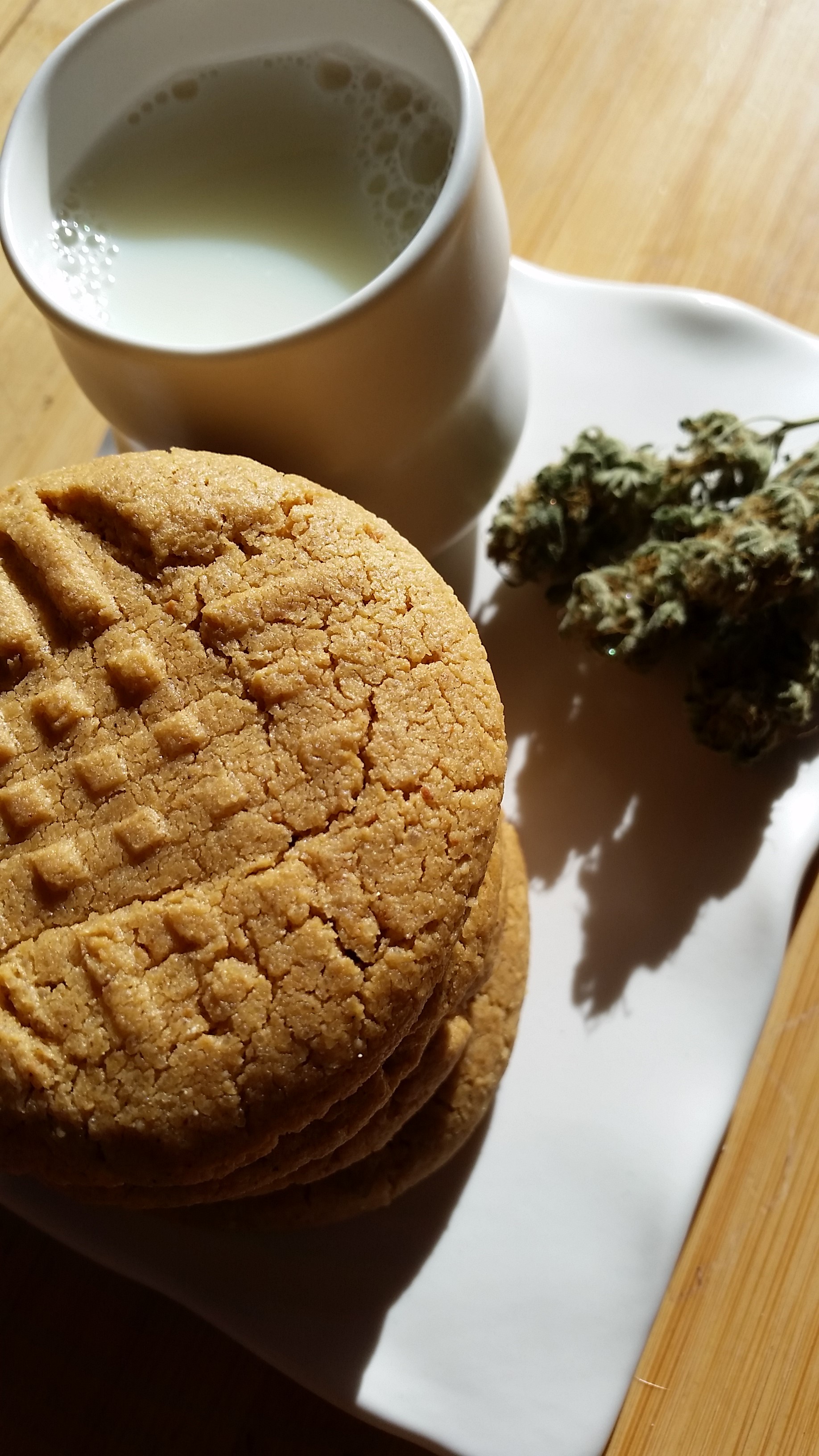 The craving for a nutritious yet sweet tooth pleasing chewy peanut butter cookie danced throughout my dreams last night. Upon waking and not being able to shake such a desire, I obliged without any hesitation. Into the kitchen I went, rummaging through the cupboards and refrigeration to see what ingredients I could play with. As my fingers slid across a jar of vanilla protein powder I found myself creating a spin off of a "Protein No Bake Peanut Butter Cookie" recipe I made in 2010. This new recipe has much more protein with the addition of an egg and is gluten free to boot. Pair with a strain of kief such as Vanilla Kush, Headband, or Maple Leaf to play off the nutty flavor of the peanut butter. Enjoy with a tall cold glass of obligatory milk without all the guilt.
Mise en place:
1 cup natural creamy peanut butter
1/2 cup turbinado sugar
1 egg
1 scoop vanilla rice protein powder
1 gram kief
Directions:
Step 1 – Decarboxylize the kief by preheating your oven to 220 degrees F. Take a baking sheet and line it with parchment paper that will not burn in the oven. Very carefully sprinkle the kief onto the sheet making sure that it is evenly disbursed. Place the baking sheet into the oven uncovered and heat for 25 minutes. Pull the baking sheet from the oven, and let it cool completely. Be very careful when removing it from the pan. You now have decarboxylized or "activated" medical kief that is ready for consumption.
Step 2 – Turn the oven up to 350 degrees F. In a small bowl mix all of the ingredients with a wooden spoon. Once the mixture comes together, divide the dough into 12 servings with a scale. Pat each serving into the shape of a cookie then place the cookie dough onto a cookie tray. Use a fork to flatten the dough in a crisscross pattern. Bake for 14 minutes then pull from the oven. Cool for 8-10 minutes before eating.
Dosage – If the gram tests at 50% THC, fifty percent of 1,000mg would be 500mg. So if you added 1 gram worth of kief into this recipe at 50% THC it would look something like this: 500mg divided 12 servings would equal 41.7mg per cookie. Sub the number of your THC percentage and do the math to figure out your dosing. If you want a smaller dose, cut the gram by half or make even smaller servings.
Share this:
---
---