Chewy Chocolope Chocolate Protein Cookies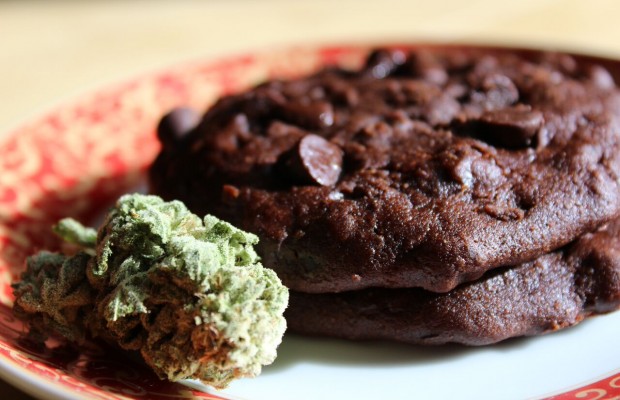 Enjoy the intense chocolate coffee and spice flavors of Chocolope that will meld with the ingredients of these protein cookies to create a wonderfully addictive taste on the palate.
A new year brings about many resolutions in regards to one's character or physical attributes. Some people resolve to become better people by getting involved with important charities or human rights movements, while others resolve to treat their bodies better and get healthier by losing weight or becoming more fit. Whatever your resolution this year is, commit to it and know you can achieve it! But don't stop there; you can make multiple resolutions that will do yourself and others good any time of the year.
After having my first child Mary Jane (yes, that is her real legal name) in October, I resolved to get back to my pre-pregnancy weight this New Year then take it a step further to get in the best shape of my life. I launched the Cannabis Mom Diet blog to chronicle my journey and encourage other cannabis mothers to join me in the pursuit of a healthy new year filled with responsible cannabis consumption. This recipe reflects that spirit of health with a delicious sinful chocolate cookie that is actually protein in disguise. Enjoy the intense chocolate coffee and spice flavors of Chocolope that will meld with the ingredients of these protein cookies to create a wonderfully addictive taste on the palate. Whatever your journey is this year, it is guaranteed that each bite of this cookie is a step to a healthy direction!
Mise en place:
1 can sodium free black beans
½ cup cane sugar or sugar substitute
1/3 cup semi-sweet Vegan chocolate chips plus a small reserve for decoration
Heaping 1/4 cup carob powder
3 tablespoons whole wheat flour
2 tablespoons natural peanut butter
2 tablespoons olive oil
2 tablespoons coconut almond milk
2 teaspoons vanilla extract
1 teaspoon baking powder
1 teaspoon cinnamon
1 dash pink Himalayan sea salt
1 gram decarboxylated Chocolope kief
Directions:
1. Add the beans to a food processor and processes the black beans until smooth. Remove the bean mixture with a spatula and add to a stand mixer. You can also use a bowl and hand mixer instead if you do not have a kitchen aid mixer.
2. Add in the sugar, flour, carob powder, peanut butter, olive oil, milk, vanilla extract, baking powder, cinnamon, sea salt, and decarbed Chocolope kief.
3. Using a paddle attachment, mix all the ingredients together until completely combined.
4. Now stir in the chocolate chips until evenly distributed.
5. Preheat your oven to 375 degrees.
6. On a large greased cookie sheet, evenly drop the cookies into 12 servings. The dough will be very sticky so you will need to shape the dough into round cookies. Be sure to leave a 2 inch gap between cookies to allow for the cookies to grow.
7. Sprinkle the reserve chocolate chips on top of the raw cookies.
8. Bake for 10 minutes then pull from the oven to cool.
9. Enjoy!
Dosage:
If the gram of kief tests at 50 percent THC, 50 percent of 1,000mg would be 500mg. So if you added 1 gram worth of kief into the total recipe at 50 percent THC it would look something like this: 41.7mg per serving. Sub the number of your THC percentage and do the math to figure out your dosing. If you want a smaller dose, cut the kief down to ½ gram instead for 20.8mg per cookie.
To Decarboxylize kief: Preheat your oven to 220 F. Take a baking sheet and line it with parchment paper that will not burn in the oven. Very carefully sprinkle the kief onto the sheet making sure that it is evenly disbursed. Place the baking sheet into the oven uncovered and heat for 25 minutes. Pull the baking sheet from the oven, and let it cool completely. Be very careful when removing it from the pan.
Strain Suggestions:
I would recommend strains that possess chocolate or coffee like terpenes and flavonoids. The following would be ideal: Chocolate Kush, Chocolate Thai, Chocolate Chunk, or Thai Tanic. If you cannot find these strains don't panic, just follow your nose and taste buds to finds strains that would complement the dish. Think of each strain possessing its own individual flavors like herbs and have fun with it!
Written for: Cannabis Now Magazine
Share this:
---
---