About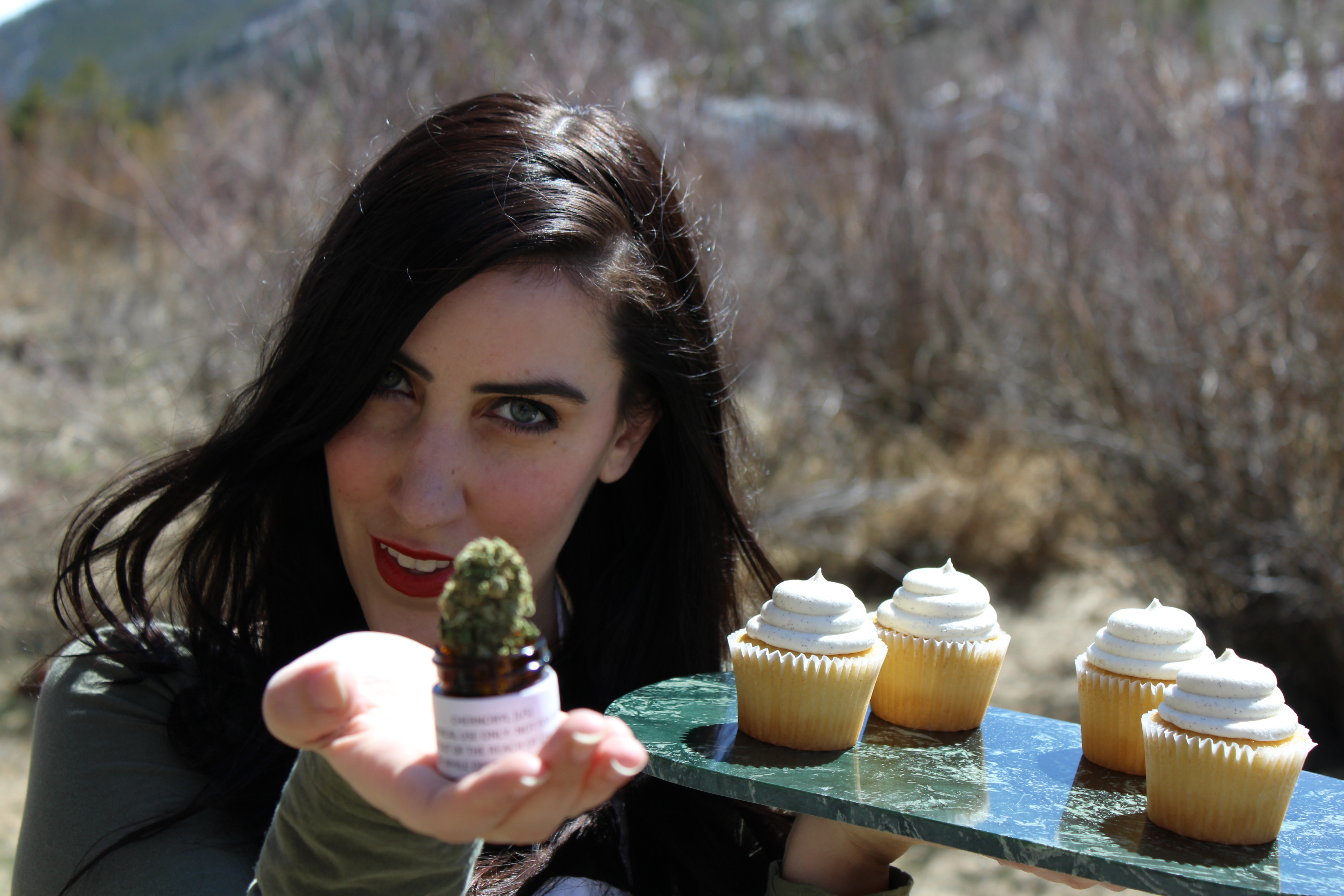 Jessica Catalano is a Professional Cannabis Chef, cannabis edibles expert, recipe developer, food writer, the pioneer of strain specific cannabis cuisine, founder of TGKR, and author of The Ganja Kitchen Revolution: The Bible of Cannabis Cuisine published by Green Candy Press. She is a Medical Cannabis and Cannabis Lifestyle advocate who has combined her two loves of food and cannabis into stylish medicated dishes for Medical Cannabis patients. She was born and raised in Buffalo, NY and then headed west to Colorado at 23. Catalano holds three culinary degrees: Pastry Arts, Culinary Arts, and Food Service Management that she earned while living in Colorado. Between her education, experience in the bakery and restaurant industry, impressive cannabis industry working experience, and her knowledge of cannabis, she has been called the "OG Cannabis Chef" by many. 
Catalano pioneered strain specific cannabis cuisine for flavor, the first chef in the world to publicly do so, by infusing terpenes into cooking and baking via strain specific recipes to elevate the taste in the edibles she creates. What this means is that she uses specific strains in specific recipes to enhance the flavor profiles of the dishes she constructs. For example, Lemon Kush can be paired with Vietnamese Spring Rolls. By doing this, the Lemon Kush will impart a lemony taste with floral and mint undertones which deepens the flavors in this dish because of the similar taste profiles already present in the ingredients. This also helps patients to understand the importance of flavor profiles in recipes for a more enjoyable experience and how each strain will effect their bodies.
In 2009, she began experimenting with Strain Specific Cooking and Baking and launched a blog in June 2010 to share her recipes with medical marijuana patients. The Ganja Kitchen Revolution blog was born and quickly became such a success that in September 2010 she was approached by Green Candy Press. TGKR went into production and three years later it hit the market as the first Strain Specific Gourmet Cannabis Cookbook. It has quickly become the authority on strain specific cannabis pairings and a must have in any aspiring cannabis chefs cookbook collection. Today TGKR still produces free recipes for medical marijuana patients to make in the comfort of their own homes.
Currently, Catalano is the Food Columnist for the international SKUNK Magazine and former Tokin' Female of the Month. In addition to SKUNK Magazine, she writes for their sister magazine The Highway as a cannabis food writer. She also is a contributing editor to Diane Fornbacher's LadyBud Magazine, contributor to the national Cannabis Now Magazine, and reviews Seattle products on The Proper Cannabis Committee for A Proper High.
Catalano was also named Stoner Girl of Winter 2015 by the Stoner Girl's Guide. She is the former Cannabis Chef at Cultivating Spirits who taught the Cooking with Cannabis Class as well as the Sensational Fusion Private Dinners. She cooked for and co-hosted the first cannabis pairing dinner at the 2015 Aspen X Games with the Cultivating Spirits family. Catalano has cooked for celebrities such as Snoop Dogg in Aspen and has served as a judge for the Denver Hightimes U.S Cannabis Cup in 2012, 2013, 2015, and 2016 for Edibles, Topicals, and CBD products.
She has appeared on TLC, Munchies VICE, and Al Jazeera. Her work has been mentioned in Vogue Magazine, Vice, Al Jazeera, Brazil's Carta Capital Magazine, Buzzfeed, the Associated Press, The Guardian, Business Insider, StarChef's Rising Stars Magazine, Culture Magazine, Skunk Magazine, Cannabis Now Magazine, Ladybud Magazine, FSR Magazine, Denver Westword, the Aspen Times, the Summit Daily, the Cannabist, the Stoner Girls Guide, and many more. She has also done cannabis food writing for StickyGuide, Releaf Magazine, Smell the Truth, The Nug, PROHBTD, Whaxy, Stuff Stoners Like, the Smoking Bud, Starchef's, Leafly, High Times Magazine, VICE, MUNCHIES, Colorado's very own weed-rag The Daily Doobie, and many other publications.
As a Medical Cannabis patient herself, she has extensive knowledge since early 1997 for medicinal purposes. She continues to strive for excellence both in cooking, baking and Medical Cannabis knowledge. Her goal is to help as many Medical Cannabis patients as she possibly can creating a better quality of life for them. She explores the health benefits of cooking with cannabis which when balanced with good nutrition and a healthy lifestyle can help promote a longer and more fulfilling life. She is also a passionate runner who draws upon inspiration from exploring the Pacific Northwest to fuel creativity in the kitchen. Catalano currently resides in a suburb of Seattle, Washington with her husband, daughter Mary Jane, and Bombay cat Mao.
Recipes You Can Expect To Find Here
The Ganja Kitchen Revolution has always been about teaching the food history, strain lineage, medicinal properties of strains, and flavor profiles of food and cannabis together. That will never change! However, the recipes that have been developed in the past are generally traditionally based in ingredients (with some offshoots into veganism, vegetarianism, and gluten-free lifestyles).
While these traditional dishes were all delicious and test kitchen approved, there has been an increasing need for alternative food lifestyle recipes. Therefore, The Ganja Kitchen Revolution has transitioned from traditional ingredients to more health conscious substitutions while still maintaing strain and culturally significant recipes. All previous recipes will still be in the archives, in case you feel the need to have a cheat day. But let's be clear, traditional is never a bad thing, in moderation!
The Ganja Kitchen Revolution is going Paleo. Yes, cannabis is Paleo too. New recipes will be rolling out weekly from both magazines and websites Catalano writes for as well as this website itself. Recipes will also take a focus on healing autoimmune diseases, chronic diseases, and other health issues through food.
New recipes you will be able to find here: Paleo, AIP Paleo, Keto, Gluten-Free, Dairy-Free, Vegan, Vegetarian, Flexitarian, Pescatarian, Low-Sugar, Raw Food, and Low-Carb. But mostly Paleo.
---